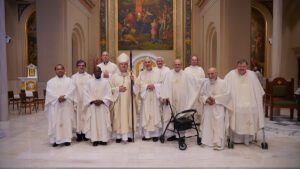 SCRANTON – Fourteen priests – who have provided a total of 665 years of service to the priesthood – were honored during the 2023 Mass for Priest Jubilarians on Thursday, June 8, 2023, at the Cathedral of Saint Peter.
"I'm excited. It's a great feeling," Father Jackson Pinhero, O.S.J., Assistant Pastor of Saint John the Evangelist and Saint Joseph Marello Parishes in Pittston, said just before the liturgy began. "I came to this country in 2007 so it has been almost 16 years that I have been here working in the Diocese of Scranton. I also worked for nine years in India."
Father Pinhero, who is an Oblate of Saint Joseph priest, was ordained on April 15, 1998. The Cathedral Mass is actually the third celebration he has taken part in this year.
"I had a beautiful celebration in my parishes in Pittston, and then I recently went home to India for my vacation so I also had another celebration with my family and friends in India, in my hometown parish where I was ordained a priest," he said.
As he reflected on the service of his fellow Jubilarians, he joked that he is actually the "young guy."
"I see most of the other guys celebrating 50 years or more. It's only my silver jubilee," Father Pinhero said with a smile and laugh.
The Mass celebrated the priestly ministry and service of Monsignor John A. Esseff, who has served the Church for 70 years; Father William D. Campbell, who has served for 65 years; Monsignor Thomas V. Banick and Fathers John P. Ryan and Eugene R. Carr, who have served for 60 years; Fathers William M. Petruska, Anthony M. Urban, Thomas R. Hudak, Paul M. Mullen and James J. Walsh, who have served for 50 years and Fathers Philip S. Rayappan, Jackson Pinhero, O.S.J., Mariusz Beczek, O.S.J., and Andrew Mensah Amankwaa, who have served the Church for 25 years.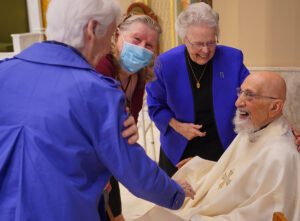 "God's strength is still moving us and that is the joy," Father Mullen said at the conclusion of Mass. "Every day is a blessing."
Reflecting on 50 years, Father Mullen admitted he was scared by the priestly vocation he first assumed, but now has realized what a "wonderful gift" it has been.
"Looking back, I know God has always been with me," he explained.
The Most Rev. Joseph C. Bambera, Bishop of Scranton, served as principal celebrant and homilist at the Priest Jubilarian Mass. The bishop thanked each man for his service to the Church and to the Lord Jesus. By patterning their lives after the life and love of Jesus, he said the Jubilarians have brought countless people to a deeper sense of meaning, life and peace.
"I thank you for your commitment in joyful moments and in challenging times. I thank you for leading us through change and upheaval to harmony and peace," Bishop Bambera said. "And I thank you for always reminding us of God's presence in our lives – in the great gift of the Eucharist – in the Word proclaimed – and in the Church, the People of God from among whom every priest is called and with whom every priest is privileged to journey in faith."