ROME (OSV News) – In what looks like a continuation of pontifical legacy, Pope Benedict XVI was buried in the crypt where his Polish predecessor, St. John Paul II, was first buried. St. John XXIII also was buried there prior to his beatification.
A triple coffin – the first one made of cypress, the second of zinc and the third one of oak – was put into the grotto Jan. 5 following the funeral Mass with Pope Francis presiding.
The place of burial is unique for many who knew the fond relationship of St. John Paul II and Cardinal Joseph Ratzinger, the future pope who was the Vatican's chief doctrinal official under the Polish pontiff.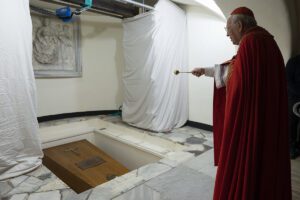 "It is a sign of friendship that goes way beyond their earthly life," Cardinal Konrad Krajewski, prefect of the Dicastery for the Service of Charity, told OSV News. The cardinal was master of papal ceremonies under both St. John Paul II and Pope Benedict.
"I think it truly symbolically closes the earthly symbiosis of the two popes – the Polish and German pontiff," added Yago de la Cierva, professor at the Pontifical University of the Holy Cross in Rome.
The Holy See Press Office predicted the crypt where Pope Benedict was laid to rest will be ready for the faithful to visit after Jan. 8.
The two popes had a unique intellectual friendship throughout St. John Paul's papacy. They also were close collaborators. In 1981, the pontiff made Cardinal Ratzinger prefect of what was then called the Congregation for the Doctrine of Faith and since renamed a dicastery.
In Italy to this day, the office is called Sant'Uffizio, the Holy Office, and has been one of the most fundamental curial offices for centuries. As the doctrinal guardian office of the Catholic Church, it also is handling cases of clerical sexual abuse.
"I think Joseph Ratzinger was John Paul's safety net. The Polish pope wanted to transform the Church in every country, but he needed someone to remain in the office to make sure his 'new initiatives' were truly Catholic, he needed to have a theologian as a backup. And Karol Wojtyla trusted Ratzinger in every doctrinal issue," de la Cierva told OSV News.
Cardinal Ratzinger was the one behind many of the Polish pontiff's documents.
"I remember one press conference with Joseph Ratzinger in the Holy See Press Office," de la Cierva said. "Someone asked him what he thought about a papal encyclical, and with a smile on his face he answered that he didn't need to give an opinion because he recognized himself in many texts of John Paul II."
As history showed, he was writing first drafts of many of them.
After St. John Paul's death April 2, 2005, newly elected Pope Benedict XVI often prayed at the tomb of his predecessor. On May 9, only a month after the Polish pontiff's death, the new pope began the beatification process for Pope John Paul II. He was declared "blessed" May 1, 2011. (Pope Francis canonized him and St. John XXIII in 2014.)
Even if their characters seemed a world away, Pope Benedict was similar to St. John Paul in many aspects.
"Pope Benedict XVI would spend a lot of time in the chapel. He was a man of prayer and at the same time a titan of work," Archbishop Mieczyslaw Mokrzycki, the Latin Church metropolitan of Lviv, Ukraine, told OSV News.
Archbishop Mokrzycki was a secretary of St. John Paul II, and Pope Benedict asked him to continue his mission for the first two years of his papacy. Then the German pope made him archbishop of Lviv in western Ukraine, a city with deep Polish roots.
"When I arrived there, we were renovating the residence of the Lviv bishops, and I put a stained-glass window with both John Paul and Benedict there," Archbishop Mokrzycki told OSV News. "I truly believe one day he will become a saint, I saw his everyday work, and I can tell this was a holy man."