SCRANTON – With the cost of groceries, fuel and other household expenses continuing to rise, Christine Ward has often found herself in need of a helping hand.
She is very thankful for the dedicated volunteers of Saint Paul Parish in Scranton's Green Ridge section, who operate a parish food pantry every Friday from the basement of Saint Clare Church.
"It is very important. We come twice a month and there is a lot of stuff that you can choose. They have a lot of choices," Ward said.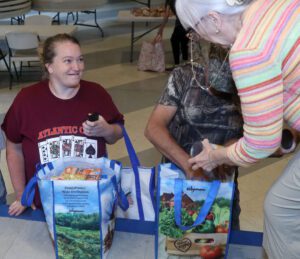 The pantry has seen its numbers skyrocket in recent years.
"People fall through the cracks every day that never thought they would fall between the cracks and sometimes we don't recognize, just in the general public around us, who those people are," food pantry volunteer Noreen Rowland said.
Ward says the volunteers are courteous and respectful and really want to help their community.
"It's actually good to come here because you get there and they ask you what you want. You can choose what you want – like Corn Flakes or any kind of cereal – and then you can choose your coffee, hot chocolate, tea, fruits and all different things," Ward added.
In just the last year, Saint Paul Parish food pantry volunteers distributed more than 22,500 pounds of food.
Barbara Burkhouse, who has helped coordinate distribution efforts for the last 16 years, says the food pantry might have helped only five families a week in the past.
Now, the number of families helped each week is usually upwards of 25 families.
"They have increased significantly this year. We could see that as some of the benefits that were being given to people were cut back," Burkhouse explained.
While supported by parishioner donations and area businesses, gifts to the Diocesan Annual Appeal also play a critical role in helping the Saint Paul Parish food pantry fulfill its mission.
The parish is one of 24 parishes that has received a Social Justice Grant from the Diocesan Annual Appeal this year. The parish also received a grant for its food pantry in 2022.
The $5,000 grant that the parish requested directly helps people in their local community.
"It is amazing. We use every penny we get our hands on. With the grant, we do a lot of meat and seafood coupons. We actually give people a $20 meat/seafood coupon once a month so they can go to Gerrity's and pick out their own choice. That is really appreciated," Jody Maloney, co-coordinator of the Saint Paul Parish food pantry, said.
"The Diocesan grant, the $5,000, is extremely important to us and we're delighted to receive it," Burkhouse added.
As you consider how you are called to serve others, think about your brothers and sisters who receive a helping hand from the dedicated volunteers at the Saint Paul Parish food pantry.
"There are many clients that really rely on this and we see so many people that are raising grandchildren," food pantry volunteer Kathleen Manley said. "Some of them are very outspoken as to just how grateful they are!"