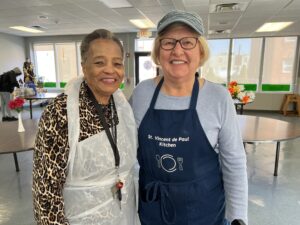 WILKES-BARRE – Saint Francis of Assisi once said, "For it is in giving that we receive." Those words could not be truer for two longtime volunteers at Saint Vincent de Paul Kitchen.
For nearly 17 years, Joan Robinson, 84, of Wilkes-Barre, and Nancy Prebish, 79, of Sugar Notch, have been donning aprons, prepping vegetables and serving those in need on a weekly basis.
"My husband got cancer and passed away," Prebish said. "We weren't lucky enough to have children but I felt I had to do something to get out and be with people so I decided to come to Saint Vincent de Paul and volunteer."
That is where she met Robinson and the duo quickly struck up a friendship.
"We used to go on vacations together, we used to go on bus trips together," Robinson explained of their friendship. "She's the angel on my shoulder. I feel great just having her as a friend."
"I could say the same thing for her too. It is surprising because you come to help people, but in the meantime, you meet so many volunteers that are in the same boat as you are. They lost somebody and want to give back to the community and are thankful for what they have," Prebish explained.
Both Prebish and Robinson continue to serve at the Kitchen together every Friday. They enjoy getting to interact with the Kitchen guests just as much as they enjoy interacting with each other.
"You make good acquaintances with them. You joke around and you're glad to see them and when you don't see them, you wonder how they are doing," Robinson said.
Both women encourage those people thinking about volunteering at Saint Vincent de Paul Kitchen to try it.
"I get a lot of joy out of it. It is a good place to socialize. A lot of us are by ourselves so it's good to be out among other people," Robinson stated.