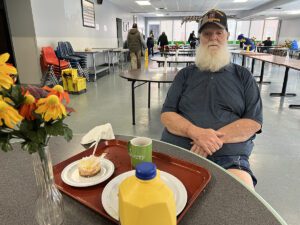 WILKES-BARRE – On almost any day of the week around noontime, John Lind of Plains Township can be found sitting at a table with friends enjoying the Daily Meal at Saint Vincent de Paul Kitchen.
"I come here every day," Lind said.
With the cost of groceries, gas, heating oil and many other essentials continuing to skyrocket, the 78 year old says eating at the Kitchen is one way he is able to save money.
"I would say it's a minimum of $10 a day this place saves me," he admitted. "I put that right in the gas tank."
In addition to enjoying the Daily meal, Lind also frequently takes home fresh fruits, vegetables, and desserts that are regularly made available to guests.
In the midst of decades-high inflation, Mike Cianciotta, Executive Director of Saint Vincent de Paul Kitchen, says more people are turning to places like their facility on East Jackson Street for assistance.
"We have definitely seen an increase of new clients coming in," Cianciotta said. "I hear them talking about the price of gas, their utilities going up and the general cost of living at this point."
Saint Vincent de Paul Kitchen serves a warm, nutritious meal to the community every day of the year, including weekends and holidays, between 11 a.m. and 12:30 p.m.
Everyone is welcome, no questions are asked.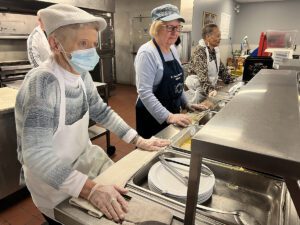 Every Thursday, the Kitchen also provides 14 meals to veterans living at Saint Hedwig's Village in Kingston and 60-70 meals to the Women in Crisis program in Hazleton. The Kitchen also delivers 25 meals to Mother Teresa's Haven, an emergency shelter for people in Wilkes-Barre, six nights a week.
In addition to the Kitchen, Saint Vincent de Paul Food Pantry is open every Tuesday and Thursday from 9 until 11 a.m. In addition to receiving canned goods and meat products, visitors also receive fresh fruits and vegetables.
Saint Vincent de Paul Kitchen accomplishes all of its work with just six full-time staff members – but relies on the kindness and generosity of volunteers, community groups and donors.
"Our staff is phenomenal. We all worked through COVID, through the whole pandemic, everyone came in and took care of the clients. We wouldn't survive without the volunteers obviously," Cianciotta said. "It costs us close to $500,000 a year to run this place. People don't realize that, so monetary donations are very important."
Ann Marie Harley, a parishioner at Saint Nicholas Parish in Wilkes-Barre, has been volunteering at the Kitchen for two years.
When asked to describe how important the Kitchen is to the community, she responded, "It is an answer for a lot of people just to have a warm meal every day."
Harley not only knows most of the Kitchen guests by name, she knows their stories and favorite meals.
"I get upset when I have something going on and I can't come because I feel like I'm letting them down," she explained.