WILKES-BARRE — When the late Scranton Bishop J. Carroll McCormick dedicated the new Saint Vincent de Paul Kitchen as a program of Catholic Social Services of the Diocese of Scranton on May 19, 1983, he urged the people of the Wyoming Valley to "accept the challenge to love those whom the world has scorned."
Two weeks later, Saint Vincent de Paul Kitchen at 39 East Jackson St. in downtown Wilkes-Barre served its first meal on June 2, 1983. Monsignor Donald McAndrews, the executive director of Catholic Social Services in the Diocese who envisioned such a haven of charity for the area's needy, looked on with pride as a legacy was born.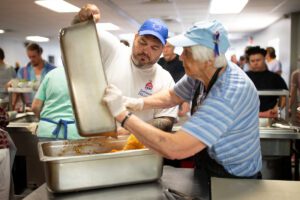 For the past 40 years, Saint Vincent de Paul Kitchen has provided a safe space for people in need to enjoy a hot meal, warm clothes, kindness, compassion and companionship.
That first simple meal served to some 100 underprivileged members of the community will be fondly recalled and celebrated when "A Bountiful Harvest," the Kitchen's 40th anniversary event under the major sponsorship of McCarthy Tire Service, will take place this Saturday evening, Nov. 18, at The Westmoreland Club in Wilkes-Barre.
The celebratory gala — fittingly slated for the weekend before Thanksgiving — will serve as an evening of gratitude and giving, featuring a cocktail party, piano music and auction, including a $5,000 cash raffle.
Serving as event chairman is Gary Lambert Jr., a member of the Kitchen Advisory Board since June who recalls earning high school "service hours" as a volunteer at Saint Vincent de Paul. The evening's program will honor three longtime board members for their charitable and distinguished service to the Kitchen apostolate, as well as the community at large.
Among the honorees are Lambert's grandmother, Cecelia "Cece" McCarthy; Rose Marie Panzitta; and John Graham.
As it has done since its humble beginnings 40 years ago, Saint Vincent de Paul's doors are open to the less fortunate in the community every day of the year, including weekends and holidays. The serving of nutritious lunchtime meals begins each morning at 11 a.m. and ends at 12:30 p.m. Today an average of about 300 meals are prepared daily.
In addition to the Kitchen, the Saint Vincent de Paul Food Pantry is open every Tuesday and Thursday from 9 to 11 a.m.
Dr. David Shemo, a Wilkes-Barre area dentist who serves as president of the Saint Vincent de Paul Kitchen Advisory Board, expressed his pride and that of his fellow board members in celebrating the Kitchen's time-honored apostolic work — and those community members responsible for it — on the occasion of the milestone anniversary.
"Over the course of the past 40 years, Saint Vincent de Paul has served literally millions of hot meals to our community," Dr. Shemo said. "Its enduring success is a living testament to the generosity of our community. We are honored to help those in need and look forward to continuing to welcome patrons to the Kitchen for many years to come."
Mike Cianciotta, director of Saint Vincent de Paul Kitchen, said the facility provides a basic necessity to those it serves, adding that there are those who erroneously believe most of Saint Vincent's clients are homeless.
"The idea that only homeless people need this place is a total misconception," Cianciotta said. "Those who come to the Kitchen are retired and are on fixed incomes. Some may suffer from a mental or physical disability which prevents them from working, and many are actually the working poor."
During his 12 years of supervising the charitable operations at Saint Vincent de Paul, Cianciotta continues to see an increase in need for what the Kitchen provides.
"I'm still in awe of the generosity of the community, as well as seeing God's hand at work in providing all of our needs," he noted. "My prayers are that the Kitchen will be here for many more years, providing for the less fortunate."