SCRANTON – Nearly 40 years after Saint Francis of Assisi Kitchen opened its doors in its current location, the facility is getting a "once in a generation renovation" to ensure its mission continues for decades to come.
The work, which is already underway, will be completed over a ten-week period. It should be finished by the end of July.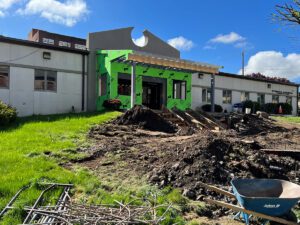 "This renovation will not only allow us to serve our brothers and sisters in need in a dignified way for another generation but will prepare us for future expansion," Rob Williams, Executive Director of Saint Francis of Assisi Kitchen, said. "This organization is primed and ready to serve God and His people in ways that we cannot yet imagine. We were founded by and through God's inspiration and we will continue to serve Him and His beloved people in every way possible."
The Kitchen currently serves ten meals to the community each week and that service will continue uninterrupted – but the meals will be prepared and served in different locations while renovations are underway.
IMPACT ON MEAL SERVICE
Starting May 19, all weekday meals (11 a.m. midday meal on weekdays and 5 p.m. dinner on Tuesday, Wednesday and Thursday) will be served at 'The Space at Olive' at 541 Wyoming Avenue in Scranton. 'The Space at Olive' is only one block away from Saint Francis of Assisi Kitchen's current location.
"Part of what we provide for the community is the ability for our brothers and sisters to sit around the table together and enjoy comradery with one another," Williams explained. "We want to keep that sense of community as much as we can through this renovation process and the dining room at 'The Space at Olive' will allow us to do that."
The 11 a.m. midday meal on Saturday and Sunday will be served in 'grab and go' containers from Saint Francis food pantry at 504 Penn Avenue in Scranton.
During the renovation project, all of the Kitchen's meals will be prepared at Lackawanna College.
"Lackawanna College is gifting us with the use of its commercial kitchen for the ten weeks. They have been amazing to us. They are also letting us put two Road Scholar trucks on campus for dry storage and freezer space," Williams added.
While unexpected challenges may arise during this process, Williams has been working to ensure a smooth transition of services for the last several months.
"The idea is to keep everything as close to normal as possible," Williams said. "Since 1978, we have only missed four meals and we won't miss a meal because of this project. There will be ten meals a week straight through."
PREPARING FOR THE NEXT GENERATION
When Williams took over as Executive Director of Saint Francis of Assisi Kitchen in August 2019, he quickly realized renovations were needed after fixing leaks in the facility's roof several times.
In June 2022, the roof was completely fixed and new vents and rain gutters added, paving the way to the rest of the renovation work to begin both inside and outside the Kitchen.
Visible signs of the renovation work are always underway – front walkways are already being fixed and a glass enclosure in the front of the building has been taken down.
"There was a glass enclosure in the front that was always damp and musty. We will have a new entrance but the roof will hang over another eight feet. It will have a stucco-look like the rest of the building with stone accents," Williams said. "The façade is going to be really beautiful."
Inside the Kitchen is where most of the changes will be taking place.
Throughout the building there will be new ceilings, LED lighting and paint and all of the appliances in the Kitchen will either be replaced or rebuilt. All of the Kitchen's public bathrooms will become handicap accessible, a new distinct laundry room will be created and the Kitchen will get new refrigeration and freezer spaces.
"There are times when people offer us 850 boxes of meat and we either have to say no to that donation or we have to borrow space in Pittston. Increasing the freezer space in this building will gear us up for another generation of service," Williams explained.
While the Kitchen is being renovated, a local artist will also restore a statue of Saint Francis of Assisi, which has a broken hand and several cracks, as well as a statue of Saint Anthony.
Monsignor Constantine V. Siconolfi founded Saint Francis of Assisi Kitchen in 1978. Its current building was dedicated in 1986.
Williams, who refers to himself simply as the "current keeper of the vision" of Saint Francis of Assisi Kitchen, says the renovation project is an exciting opportunity. He said it would not be possible without community support.
"I am deeply grateful to our board members, our benefactors, our staff members and volunteers, who partnering with us are animating this extraordinary mission that we share," Williams explained.