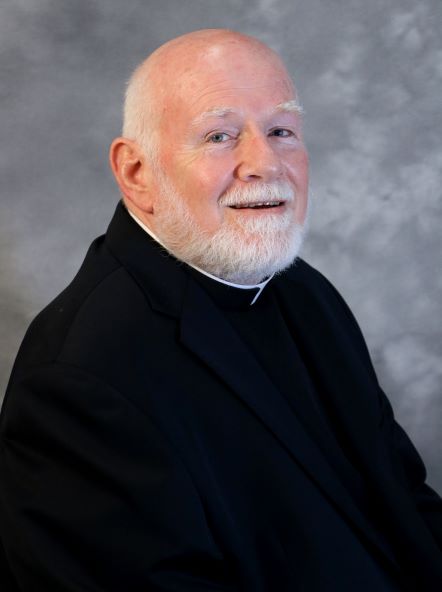 OBITUARY
REVEREND MICHAEL EDWARD FINN
Reverend Michael Edward Finn, died on the 18th day of February, 2023 at Commonwealth Regional Hospital, Scranton.
Reverend Michael Edward Finn, son of the late Patrick Joseph Finn and Sally A. McLane Finn, was born in Pittston on March 1, 1950.   He was a graduate of Pittston High School, attended St. Mary's College, Kentucky, and was a graduate of the University of Scranton.  Father received his seminary education from Pope Saint Pius X Seminary, Dalton, Pennsylvania and Christ the King Seminary, Olean, New York.  He was ordained to the priesthood in the Cathedral of St. Peter, Scranton, on May 7, 1977 by Bishop J. Carroll McCormick, late Bishop of Scranton.   
Father Finn received a summer appointment as assistant pastor pro tem at St. Ann Church, Shohola in May 1977 and in September of that year, was appointed assistant pastor at St. Matthew Church, East Stroudsburg.  In September 1983, Father was appointed Assistant Pastor, Our Lady of the Snows, Clarks Summit.
Father received his first pastorate at Holy Child Church, Mansfield in July 1990.  He was next appointed Pastor, St. Catherine of Siena Parish, Moscow in July 1994 and served for thirteen years until his appointment as Pastor, St. Thomas More, Lake Ariel in July 2007.  In July 2013, Father was appointed Pastor, St. Barbara Church, Exeter where he remained until his retirement and appointment as Pastor Emeritus in May 2022.
Father also served the Diocese as Regional Coordinator of Religious Education (Monroe and Pike Counties); Deanery Coordinator for Pope Saint John Paul's Visit in 1979; Dean of Tioga County and Dean of Dunmore deanery.  Having a great love for the scriptures, Father was able to take a sabbatical and studied in the Holy Land, Father would often lead tours to the Holy Land which were well appreciated for their in-depth insights into both the Bible and the pilgrimage sites.
Father Finn is survived by siblings, Ann Teresa Engleman, Pittston; Edward Finn (Peg), Brigantine, NJ; W. Gordon Finn, Pittston; Kathleen Masulis, Pittston; and Patricia Medico (Charles), Laflin; sister-in-law of the heart, Cheryl Finn, Plains; nieces, nephews, great nieces, great nephews and cousins. 
In addition to his parents, Father was preceded in death by brothers-in-law, Edward Masulis and George Engleman; and a nephew, Brian Engleman.
Viewing will take place Wednesday, February 22, 2023 from 5 p.m. to 8 p.m. at St. John the Evangelist Church, 35 William Street, Pittston.  A Vesper Service will be celebrated at 8:00 p.m.
A Pontifical Mass of Christian Burial will be celebrated by the Most Reverend Joseph C. Bambera, D.D., J.C.L., Bishop of Scranton, on Thursday, February 23 at 10:30 a.m. preceded by a viewing from 9:30 a.m. to 10:15 a.m.   Interment will be in St. John the Evangelist Cemetery, Pittston.  In lieu of flowers, memorial donations may be made to St. Joseph's Center, 2010 Adams Avenue, Scranton, PA  18510. Arrangements are entrusted to Adonizio Funeral Home, LLC, Pittston, Pa.   On-line condolences may be made by visiting Father Finn's obituary at adoniziofuneralhome.com