SCRANTON – President Joe Biden visited the Cathedral of Saint Peter on Thursday afternoon to privately pay his respects to the family of Ellen Casey, the former first lady of Pennsylvania and mother of U.S. Sen. Bob Casey, who died last week at age 91.
The president arrived at the Cathedral at 1:08 p.m. and departed at 1:48 p.m.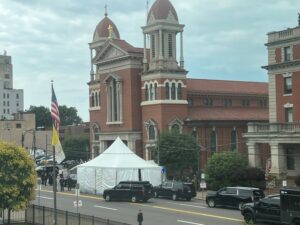 Talking to reporters both before and after his flight, Biden said he wanted to attend Mrs. Casey's funeral Friday but had previously been scheduled to be at a summit at Camp David and didn't want other funeral attendees to have to go through Secret Service security.
"I just want to show my respect to the family," Biden said after arriving at the Wilkes-Barre/Scranton International Airport in Avoca.
Biden said Mrs. Casey loved with a fierceness and a tenderness that was "just incredible."
"She played an enormous role, not just in my life but everyone's (life). There is a quote my sister always uses about Michelangelo, 'He saw the angel in the marble, and he carved till he set it free.' That's who she was. This was an incredible woman – decent, honorable. Her values were amazing and every time I'd go to Scranton over the years, I'd stop and see her. She was a friend," Biden said.
President Biden emphasized he has known the Casey family for the majority of his life.
"We lived not far from one another. He was on Wyoming Avenue and I lived on North Washington Avenue. We went to the same parish, Saint Paul's," Biden added.
Air Force One departed the Wilkes-Barre/Scranton International Airport at 2:30 p.m. en route to Hagerstown, Md., from where he will travel to Camp David.
The viewing for Mrs. Casey will last until 8 p.m. Thursday evening. Her funeral Mass will be held on Friday morning at 10 a.m. At the request of the Casey family, the funeral Mass will be livestream from the Cathedral of Saint Peter on the Diocese of Scranton's YouTube Channel.