SCRANTON – Over the next two weeks, the Diocese of Scranton Catholic School System will proudly welcome back thousands of students for the start of the 2023-24 school year.
Kristen Donohue, Diocesan Secretary of Catholic Education and Superintendent of Catholic Schools, said dedicated faculty and staff at all 19 Diocesan Catholic schools are excited about the upcoming year and the opportunity to help each student grow spiritually, academically, emotionally and socially.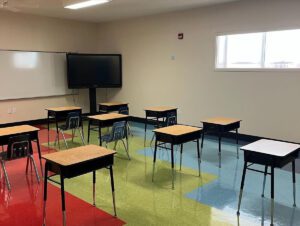 "We are going to have a great year," Donohue emphasized.
The long-time educator admits the "back to school" season comes with a variety of emotions.
"For some families, it is their first opportunity to enter our school system and it's a very exciting time. For others, it might be their 12th grade year and it will be the last 'first day' that they will have in our school system," Donohue said. "Regardless of where our students are starting their journey this year, it is a time of excitement."
Throughout the summer, Catholic schools in the Diocese have fielded many calls from prospective families – and many have already surpassed enrollment numbers from last year.
"Our schools are very attractive to a lot of families for a variety of reasons. We are seeing an uptick in enrollment and are continuing to see interest throughout the month of August with school right around the corner," Donohue added. "There are still open seats available in many of our schools. However, due to the increases in enrollment, there are classes that have been capped. If anyone is interested, it would be wise to reach out to the school principal right now to inquire."
WHAT TO EXPECT THIS YEAR
Donohue expects the Diocese of Scranton's Strategic Growth Planning Initiative for Catholic Schools to pick up steam as the new academic year begins.
Launched in April, the process aims to help the Catholic School System define priorities and develop a strong, financially sustainable vision for the future to ensure Catholic schools remain vibrant and viable.
All stakeholders will soon be invited to fill out surveys, allowing them to provide input into the process.
"We will be surveying our current families, faculty and staff, families who are in parish faith formation programs who may not have children attending our schools, and our priests to gain an idea of what we're doing well and what areas we need to strengthen. We also want to hear any ideas or suggestions that any of those groups may have," Donohue stressed.
As students return to the classroom, interactive STREAM lessons – focused on science, technology, religion, engineering, art and math – will continue to be a primary focus of educators.
"Our educators are very much looking forward to teaching lessons that promote thought-provoking, hands-on, and collaborative activities," the superintendent said.
Educators will also continue to use assessment data to offer differentiated instruction and will focus on social emotional learning initiatives.
"We've partnered with Friendzy, which is a religious curriculum-based social emotional learning platform that will really supplement and expand the social emotional learning initiative," Donohue said.
Below are some other highlights of what is new this coming year.
NEW STREAM LAB AT SAINT CLARE/SAINT PAUL SCHOOL
Students at Saint Clare/Saint Paul School in Scranton will begin the school year with a new space dedicated specifically for STREAM lessons. The school will open a new STREAM lab on the second floor of its main campus building.
"The STREAM lab will be utilized by teachers and their students on a weekly basis so all students have the opportunity to engage with the new equipment that has been carefully chosen and is relevant to subjects reaching across the entire curriculum," principal Kara Kennedy Ware said. "Teachers may choose to team teach thematically, and our students will also be able to participate in our new after-school STREAM club. The broader goals for the new STREAM lab are to provide limitless opportunities for teaching, exploring, and learning in a beautiful engaging space, where imagination and innovation are cultivated and encouraged."
The school's STREAM facilitator, Katie Purcell, was instrumental in designing the space so that it would be conducive for student problem solving and collaboration. The new space has areas with names such as Collaboration Corner, Research Row, Workstation Nation and more.
"When designing the lab, I thought of the limitations within the classroom I had when implementing STREAM. I also spoke with faculty members and used the research from my STEM Education program to come up with the most important areas our students need to succeed," Purcell said. "The Collaboration Corner is a space for students to work together to brainstorm ideas and voice their opinions for their projects. They can use what they have learned during their time together when researching in Research Row and share their ideas with one another. The students will then go to Workstation Nation or Creation Carpet to bring their ideas to life. Both stations require the students to use collaboration, communication, creativity, and critical thinking when completing their projects and labs. This also brings the design process to life for the students."
Both Ware and Purcell expect faculty and students will be excited to engage in more hands-on STREAM activities in the new lab space.
"As a teacher myself, I cannot wait to use this with my students. I feel that I have more opportunities now to engage in project-based learning and do different projects that I could not complete in my classroom. That is how I hope the rest of the faculty feels as well," Purcell stated.
"In my opinion, some of the potential benefits for implementing STREAM, and creating a dedicated space are the unprecedented opportunities that are presented for students to sharpen their critical thinking skills, while engaging in a student-centered environment that encourages them to confidently take the lead in their learning," Ware added.
NEW SCIENCE LABS AT HOLY CROSS HIGH SCHOOL
It has been a busy summer at Holy Cross High School in Dunmore with five rooms, including two science labs, a science classroom, the school's art room and computer lab, all being renovated in some way or receiving new equipment.
"For years we have wanted to upgrade our biology and science labs and the equipment in another science room," principal Ben Tolerico said. "I think it was an opportunity to enhance the school itself."
Tolerico credits his faculty for helping to design the new spaces.
"They did an incredible amount of leg work, going through catalogs to pick out everything they wanted," he said. "It will be really great for the kids to have all of this brand new equipment … It shows the commitment the school has."
While the renovation work is still being completed, it is expected to be finished by opening day.
Tolerico said the new spaces and equipment will help students planning to pursue a career in science or art with equipment that is comparable to what they will use in college.
"Our school community feels strongly about giving life to the arts," the long-time educator explained. "Not everybody is going to be a doctor, lawyer or teacher, they have other passions. We must show our students in that niche that we support them."
NEW CLASSROOM SPACE AT OUR LADY OF PEACE SCHOOL
The new school year will bring new classroom space to Our Lady of Peace School in Clarks Green.
Due to enrollment increases and the COVID-19 pandemic, two third grade classes had been learning in the school's gymnasium for the last two years.
In February, construction crews began converting some cafeteria space into new classrooms that will be used for the first time on Aug. 28.
"The third teachers are very happy to have the brand new space. They were very patient and super professional about using the gym but they are glad to be in the new space," principal Ann D'Arienzo said. "The rest of the school is very happy to have the gym back as well."
In addition to the two new classrooms, an additional office space was also created and will likely be used as a resource and support room for small groups of students.
With 340 students already enrolled at Our Lady of Peace School this year, D'Arienzo is excited for classes to begin.
"There is a lot of momentum," she explained.
A newly formed parent-teacher group, named the Falcon Family Alliance, has also been formed to bring student activities back to the gym. The group held its inaugural meeting several weeks ago.
"They will help us with activities and events – during school, after school and fundraising events – things of that nature," D'Arienzo ended by saying.
"TOO GOOD FOR DRUGS"
Fifth grade students attending a Catholic School in Lackawanna County this coming year will participate in a new program entitled, 'Too Good for Drugs.'
The Diocese of Scranton Catholic School System is partnering with the Lackawanna County District Attorney's Office for the initiative.
"'Too Good for Drugs' is an evidence-based educational program designed to teach children and empower them at a young age to develop self-esteem, help them stand up for themselves and make good choices when it comes to alcohol or drugs," Lackawanna County District Attorney Mark Powell explained.
Students at Saint Clare/Saint Paul School, All Saints Academy, Our Lady of Mount Carmel School, La Salle Academy and Our Lady of Peace School will each have ten sessions throughout the course of the year.
"It is a highly success program. It has been implemented in several public schools over the years and we're delighted that we're expanding the program to all schools in Lackawanna County," Powell added. "Education is the key. We, as children, did not have the same issues with social media and the amount of drugs available at a young age."
Donohue says the 'Too Good for Drugs' program is much broader than the DARE Program that many parents will remember years ago.
"It is much more than just saying no to drugs. They look at the whole picture of how to make decisions and do so confidently," Donohue said. "Students will talk about setting reachable goals, identifying and managing emotions as well as being able to resist the temptation of drugs and saying no."