"As time unfolds, people coming back into normal activities
is probably going to happen a little more slowly than some might expect.
We will do all that we can to facilitate our return to Mass,
but ultimately must provide for the safety of the people God has given to our care."
—Bishop Joseph C. Bambera—
With the national and statewide conversation regarding the COVID-19 pan- demic now focused on "reopening" businesses, many people in the Diocese of Scranton are wondering when the suspension of public Masses will be lifted.
While thankful for the technology that has kept parishes connected for the last six weeks, the Diocese of Scranton fully recognizes the faithful's strong desire to return to parishes and to receive the Eucharist – which is our Spiritual life-blood.
Diocesan leadership is currently discussing ways to safely return to sacramental life – even if on a limited basis. Relying on guidance from the state and federal governments, as well as healthcare professionals, we are committed to safely and prudently resuming worship.
While specific details of "when" and "how" public Masses will resume are still being determined, the following things will be important for parishioners to consider:
The general dispensation from the Sunday Mass obligation will remain in place.
Regardless of when restrictions are lifted in a specific region of Pennsylvania, there will understandably be people, especially people in vulnerable or at-risk groups, who will feel it is safer to stay home than attend Mass. Potential limits on crowd sizes
that are allowed in parishes will also play a part. The faithful are encouraged to keep the Sabbath holy by participating in a parish livestream Mass or utilizing Catholic Television.
Livestreaming opportunities should continue due to attendance limitations
Recognizing that as regions of the Commonwealth initially transition from Governor Tom Wolf's "red phase" to "yellow phase," there will still be guidelines on the attend- ance numbers for any public gatherings. No one should expect to be able to attend Mass with regularity, so parishes that are currently livestreaming Masses will be encouraged to continue doing so.
Social distancing will be maintained.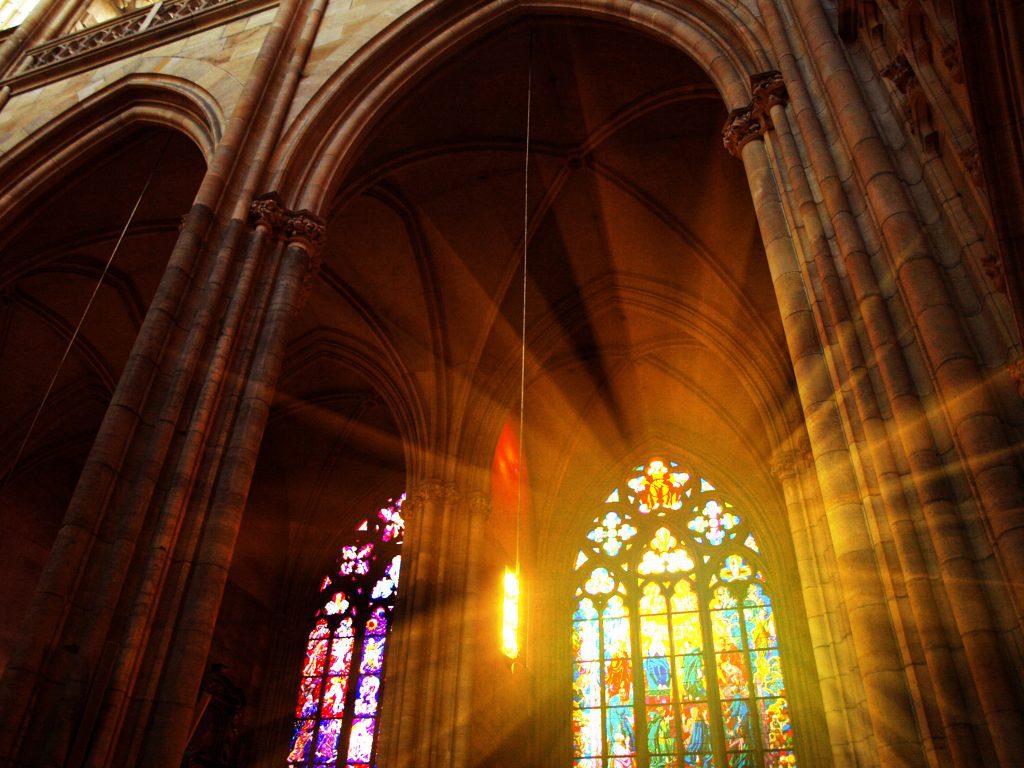 Expect that the recommended social distancing guideline of six feet will need to be respected
when entering and leaving a church, as well as in regards to seating and a potential Communion procession. As required by Pennsylvania state guidelines, parishioners would be required to wear a mask and anyone who is showing any symptoms of sickness will be told to stay home. Social gatherings before or after Mass will also not be permitted.
Liturgical changes will be in place.
Just like when the coronavirus started surfacing in Pennsylvania in March, the Diocese of Scran- ton established guidelines for the distribution of Holy Communion and exchanging the Sign of Peace without physical contact. Similar guide- lines will also be established as any individual church would be allowed to begin worship again.
Safety concerns, in addition to the virus itself, will determine the timeline.
During Mass on Tuesday, April 28, 2020, Pope Francis prayed for prudence as com- munities begin lifting their lockdowns. The Holy Father said, "At this time, when we are beginning to receive instructions for coming out of quarantine, we pray that the Lord would give his people – all of us – the grace of prudence and obedience to the in- structions so that the pandemic does not return." As this process unfolds, there will
certainly be challenges but the safety of our community will remain the benchmark. As the Diocese moves forward it requests that parishioners stay informed and stay flexible to any updates.
By working together, the Diocese of Scranton is hopeful that people will soon be able to re- turn to our churches, even if in a limited capacity, with the important understanding that things will not immediately be going back to normal.
Planificación para el futuro: qué esperar cuando se reanuden las masas públicas
"A medida que transcurra el tiempo, las personas que vuelvan a sus actividades normales probablemente sucederán un poco más lentamente de lo que algunos podrían esperar. Haremos todo lo posible para facilitar nuestro regreso a la misa, pero en última instancia debemos garantizar la seguridad de las personas que Dios ha dado a nuestro cuidado ".
—Obispo Joseph C. Bambera—
Con la conversación nacional y estatal sobre la pandemia de COVID-19 ahora centrada en "reabrir" negocios, muchas personas en la Diócesis de Scranton se preguntan cuándo se levantará la suspensión de las Misas públicas. Aunque agradecida por la tecnología que ha mantenido a las parroquias conectadas durante las últimas seis semanas, la Diócesis de Scranton reconoce plenamente el fuerte deseo de los fieles de regresar a las parroquias y recibir la Eucaristía, que es nuestra sangre espiritual. El liderazgo diocesano actualmente está discutiendo formas de regresar de manera segura a la vida sacramental, incluso de forma limitada. Confiando en la orientación de los gobiernos estatales y federales, así como de los profesionales de la salud, estamos comprometidos a reanudar la adoración de manera segura y prudente. Si bien los detalles específicos de "cuándo" y "cómo" se reanudarán las Misas públicas aún se están determinando, lo siguiente será importante para los feligreses a tener en cuenta:
La dispensación general de la obligación de la misa dominical permanecerá en su lugar. Independientemente de cuándo se levanten las restricciones en una región específica de Pensilvania, es comprensible que haya personas, especialmente personas en grupos vulnerables o en riesgo, que sientan que es más seguro quedarse en casa que asistir a misa. Límites potenciales en el tamaño de la multitud que están permitidos En las parroquias también jugará un papel importante. Se alienta a los fieles a santificar el sábado participando en una misa en vivo en la parroquia o utilizando la televisión católica.
Las oportunidades de transmisión en vivo deben continuar debido a las limitaciones de asistencia. Reconociendo que a medida que las regiones de la Commonwealth inicialmente pasan de la "fase roja" al "fase amarilla" del gobernador Tom Wolf, todavía habrá pautas sobre los números de asistencia para cualquier reunión pública. Nadie debería esperar poder asistir a misa con regularidad, por lo que se animará a las parroquias que actualmente transmiten en vivo misas a que continúen haciéndolo.
Se mantendrá el distanciamiento social. Espere que la guía de distancia social recomendada de seis pies deba respetarse al entrar y salir de una iglesia, así como en lo que respecta a los asientos y una posible procesión de comunión. Como lo exigen las pautas estatales de Pensilvania, los feligreses deberán usar una máscara y cualquier persona que muestre algún síntoma de enfermedad tendrá que quedarse en casa. Las reuniones sociales antes o después de la misa tampoco serán permitidas.
Los cambios litúrgicos estarán en su lugar. Al igual que cuando el coronavirus comenzó a aparecer en Pensilvania en marzo, la Diócesis de Scranton estableció pautas para la distribución de la Sagrada Comunión y el intercambio del Signo de la Paz sin contacto físico. También se establecerán pautas similares, ya que cualquier iglesia individual podría comenzar a adorar nuevamente.
Las preocupaciones de seguridad, además del virus en sí, determinarán la línea de tiempo. Durante la misa del martes 28 de abril de 2020, el Papa Francisco oró por prudencia a medida que las comunidades comienzan a levantar sus bloqueos. El Santo Padre dijo: "En este momento, cuando comenzamos a recibir instrucciones para salir de la cuarentena, oramos para que el Señor le dé a su pueblo, a todos nosotros, la gracia de la prudencia y la obediencia a las instrucciones para que la pandemia no vuelve ". A medida que se desarrolle este proceso, sin duda habrá desafíos, pero la seguridad de nuestra comunidad seguirá siendo el punto de referencia. A medida que la Diócesis avanza, solicita que los feligreses se mantengan informados y sean flexibles a cualquier actualización.
Al trabajar juntos, la Diócesis de Scranton tiene la esperanza de que las personas pronto puedan regresar a nuestras iglesias, incluso si tienen una capacidad limitada, con el importante entendimiento de que las cosas no volverán a la normalidad de inmediato.