SCRANTON – Just two days after the funeral Mass of Bishop Emeritus James C. Timlin, the Most Reverend Joseph C. Bambera, Bishop of Scranton, confronted the pain and grief felt by many survivors of child sexual abuse.
Bishop Bambera presided at an April 20 Mass for survivors of abuse suffered at the hands of Church officials, and he again apologized for the pain they and their family members have suffered.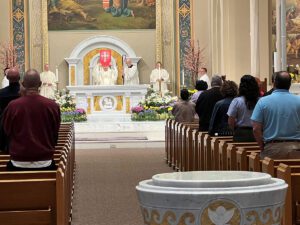 "It is not insignificant that our prayer today takes place at the conclusion of a week that in so many respects opened up a wound that has burdened so many of our brothers and sisters," Bishop Bambera said. "Two days ago, we buried Bishop Timlin, the eighth Bishop of the Diocese of Scranton … While Bishop Timlin never abused a child, it must be acknowledged that the consequences of imperfect judgments and decision on his part led to the suffering of some of the most vulnerable among us."
Bishop Bambera was the principal celebrant of the Mass – sponsored by the Diocese of Scranton's Office of Child Protection & Safe Environment – that was offered at the Cathedral of Saint Peter in Scranton.
April is National Child Abuse Prevention Month and the Healing Mass for Survivors of Abuse has now been celebrated for six years.
"The painful recollection of such realities for survivors of sexual abuse – even five years out from the release of the Pennsylvania Grand Jury report investigating child sexual abuse by members of the clergy in the Catholic Church and its cover-up by some Church leaders – is a stark reminder to us all of the grief and suffering that so many innocents have endured," Bishop Bambera added.
Bishop Bambera acknowledged he has learned many things from courageous survivors who have spoken with him over the years – the most important of which is that we "must never forget or allow time to numb us to the pain that was so willfully inflicted on innocent lives."
"An authentic recognition of the pain of that cross is the only thing that can truly prompt us to change and to create a Church deserving of people's trust," Bishop Bambera noted.
Erin McGrady, LPC, who serves as Safe Environment Coordinator for the Diocese of Scranton, said the Healing Mass for Survivors of Abuse is an important moment of prayer for many people.
"We remember the history of the Church and remember each and every survivor so we can pray and support them however we can on their journey to healing and recovery," McGrady said. "It also reminds us how important it is to continue doing the things we have in place to protect all those in our diocese and promote the safest environments possible to allow for everyone to grow in their faith."
McGrady said the Diocese of Scranton has a zero tolerance policy for anyone who abuses a child.
"Five years post Grand Jury Report being released and it is still so important to highlight the work that our Safe Environment Office does daily to make sure this issue is in the front of everyone's minds," McGrady added. "As Safe Environment Coordinator, I assist and oversee Local Safe Environment Administrators at every location to ensure that compliance on USCCB guidelines and Pennsylvania state laws are met. We provide Safe Environment training for children and adults throughout the diocese, require that background checks are completed and renewed on time for clergy, employees and volunteers and provide support and assistance to any questions, concerns or situations that arise."