LAFLIN –– The Congregation of the Oblates of Saint Joseph will host their 41st Annual Labor Day Weekend Triduum and Labor Day Mass in honor of Saint Joseph the Worker during the upcoming holiday weekend, Sept. 1-4, at the Oblates chapel, located at 1880 Route 315 in Laflin.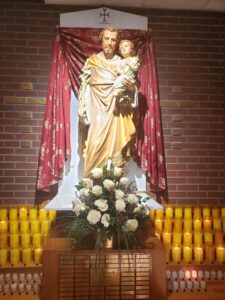 Masses during the Triduum –– Friday, Sept. 1, through Sunday, Sept. 3 –– will be celebrated at noon and 7 p.m., followed by devotional prayers to Saint Joseph as the patron saint of laborers. A blessing with the first-class relic of Saint Joseph Marello, founder of the Oblates of Saint Joseph, will conclude the devotions.
Guest celebrant and preacher for this year's Labor Day Triduum will be Saint Joseph Oblate Father Gustavo Lopez, who ministers with the Oblates' USA Province as assistant pastor of Our Lady of Guadalupe Parish in Bakersfield, Calif. A California native and ordained to the priesthood in 2009, Father Gustavo also serves in deliverance/exorcism ministry and as prison chaplain for the Diocese of Fresno.
The Triduum will conclude with a special Labor Day Mass honoring Saint Joseph the Worker on Monday, Sept. 4, at 11 a.m., concelebrated by OSJ priests serving in the Diocese of Scranton.
At the conclusion of the Mass, bread will be blessed and distributed to the faithful as a symbol of the "fruit of our labor."
Masses celebrated during the Triduum and on Labor Day morning will be broadcast live on JMJ Catholic Radio 104.5 FM.
All are welcome to attend the devotions. For more information, contact the Oblates' main office at (570) 654-7542, or by email: osjseminary@comcast.net.