SCRANTON – Over the course of the next two weeks, nearly 600 young adults from parishes and schools across the Diocese of Scranton are being recognized with the 2023 Bishop's Youth Award.
Nominated by their pastors, parish life coordinators, youth ministers, directors of religious education or school principals, the award honors those students in 8th and 12th grade who show exemplary practice of faith and/or commitment to service.
"These young people have been of service to their parish and school communities in a multitude of ways and are worthy of this recognition," Marianne Guarnieri, Director of Discipleship in the Diocesan Office for Parish Life, said.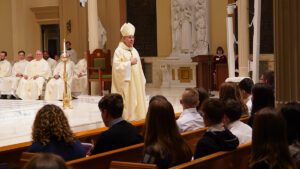 The Bishop's Youth Awards have been handed out annually since 1996.
"It makes me feel good. It's an accomplishment for the stuff I do in my parish. It feels good," Conor Buckley, a high school senior and parishioner of Our Lady Help of Christians Parish in Dorrance, said. "I volunteer at the bazaar a lot, help out anyway I can with the dinners and things like that."
The first Bishop's Youth Awards Mass was held on Tuesday, March 7, 2023, honoring students in the Southern and Western Pastoral Regions of the Diocese of Scranton. A second Bishop Youth Awards Mass will be held on Wednesday, March 15, honoring students in the Northern and Eastern Regions.
"I'm really excited. My entire life I have been a part of my parish and it's been a big part of me, so being able to get this award means a lot to me," Sofia Marica, an eighth grade student from Epiphany Parish in Sayre, explained.
There will be additional coverage of the Bishop's Youth Award Masses in the March 16 edition of The Catholic Light.