SCRANTON – After going to church regularly for more than 20 years, Jerry Garner of Lenox Township is now consciously making a decision to join the Catholic faith.
"I think it's time right now for me to join the church," he explained. "There has always been an open invitation. I just think it was the right time, the right calling."
Like thousands of other catechumens, Garner will receive the Sacraments of Initiation – Baptism, Confirmation and the Holy Communion – during the Easter Vigil April 8 at Saint Patrick Parish in Nicholson. He has been participating in the Rite of Christian Initiation of Adults, or RCIA, and feels fully prepared for the faith journey ahead.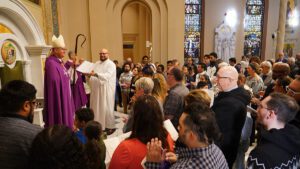 "I have been able to get more in touch with Jesus and God and really focus," he explained. "The process has been terrific. I'm learning a lot more about the church than what I previously knew and it's been a spiritual journey for me to go through this."
Clifford Pinner, who will serve as Garner's godparent, believes there has also been some divine intervention.
"I have three sisters who have been saying novenas for years. The ladies of our parish, after Mass, will also always say to him, 'When are you going to do it, When are you going to do it,'" Pinner joked.
Garner is one of 162 people from parishes around the Diocese of Scranton who participated in the Rite of Election and Call to Continuing Conversion at the Cathedral of Saint Peter in Scranton on Feb. 26, 2023, the First Sunday in Lent.
During the Rite of Election, catechumens – supported by their sponsors, godparents, family members and parish ministers – freely proclaim their desire to receive the Sacraments of Initiation to Bishop Bambera. The individuals who have never been baptized record their names in the Book of the Elect. After the rite, the bishop signs the book as a witness to their faith.
The Call to Continuing Conversion is similar for candidates – those who have been baptized in another Christian tradition and seek to enter into full communion with the Catholic Church this Easter. They also publicly profess their intention to receive Communion and confirmation.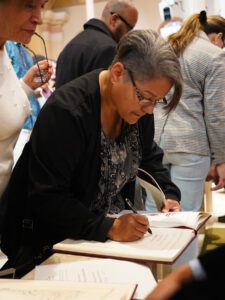 Cassandra Johnson of Saint Michael Parish in Canton is planning to receive Confirmation this Easter.
"My family has been helping me through everything but mostly it has been the calling from the Lord to come back to be one of His children," the 15 year old said.
Johnson says she has learned a lot about the Catholic faith through this process.
"We're learning about each one of the Sacraments and breaking them down. I'm learning a whole lot more than I knew before," she explained.
The Most Rev. Joseph C. Bambera, Bishop of Scranton, served as presider and homilist for the Rite of Election and Call to Continuing Conversion liturgy. He reminded each person that by answering Jesus' call they are not only affirming His presence in their life but are also committing themselves to embracing His example of service and selfless love.
"You too are being called by God to be here today, to enter into a relationship that has the power to save you from the brokenness of this world and to give you meaning and peace – to do more for God's people – and to be more than you imagined that you could be," Bishop Bambera said.
Joseph Maazola and Cheyenne Swimpson, both of Saint Luke Parish in Stroudsburg, are joining the Church so they can be godparents to their niece who will be baptized in late April.
"It was always something I planned on doing but now is the best time because of my goddaughter. It pushed us to move forward," Swimpson said. "Every Wednesday we have night class for about three hours. We talk about the church and learn what God has created. It is just a wonderful learning experience. You really get to know yourself too throughout the whole process."
After studying religions for decades, Barbara Clarke and her husband, Dennis, will also join the Catholic Church this Easter.
After being raised in the United Church of Christ, Barbara feels the Catholic Church is the only one not succumbing to societal pressures.
"A lot of churches are changing to become more worldly and I like that Catholics stay with God's word and do not cave into worldly pressures," she said.