WILKES-BARRE – During the Season of Lent, the faithful of Our Lady of Hope Parish have not only been focusing on prayer and fasting – but also almsgiving – and young people in their community will directly benefit.
As Holy Week approached, dozens of bags filled with soap, shampoo, toothbrushes and more filled the side of the Park Avenue church as parishioners continued donating hygiene products for those in need.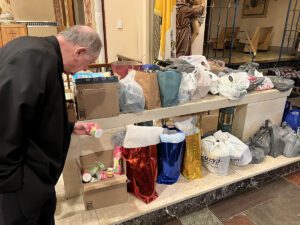 "Every Lenten Season, we always have some encouragement for our people to be able to show some form of almsgiving, the sharing of what they have," Father John Terry, pastor, said. "Over the years, we've always tried to figure out who is in need in our area."
The parish's Social Concerns Committee helped spearhead the collection – which will benefit local teenagers.
"As we went along, it went from basic things like toothpaste and shampoo and underarm deodorant to other things as well, like items for young boys and girls going through the change of life," Father Terry added. "Our parishioners were most responsive. This is a very fine community of people and they respond to all charitable outreach."
Deacon Joseph DeViza is happy that so many people were generous in responding to the call to help.
"Our Social Concerns Committee has really come alive with all of this and it has been wonderful," Deacon DeViza said. "It is one person caring for another."
Deacon DeViza knows first-hand the needs that many local teenagers face having previously worked at the Children's Service Center in Wilkes-Barre.
"When kids are being supported by community structures, such as this parish community, it makes a big difference," he added. "The more support that teenagers and families can get, the better off they're going to be in the long run."
While Our Lady of Hope Parish is no stranger to helping its community, its leadership is encouraging other religious and charitable groups to join them in providing a helping hand to young people.
"We've planted a seed and it is beginning to grow and flower and blossom. It is something really nice and beautiful for our children," Father Terry said.