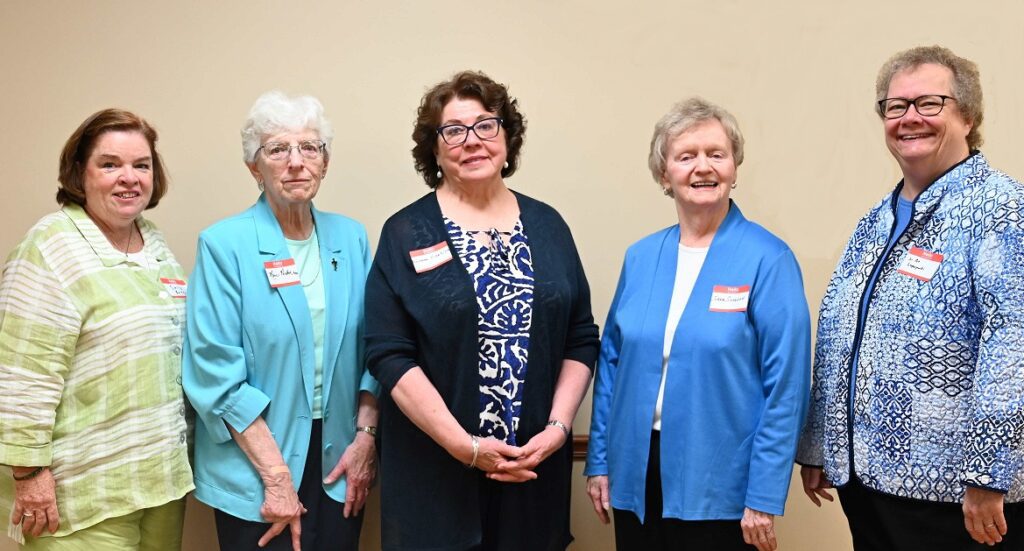 The Sisters of Mercy recently celebrated the ten-year anniversary of the Mercy Foundation at a luncheon at the Sisters' Residence at Mercy Center in Dallas, Pennsylvania.
"The Mercy legacy continues because of the deep commitment of so many people willing to partner with us in response to need," says Sister Marie Parker, RSM, chair of the board of directors of Mercy Foundation. 
Over the past ten years, the foundation has awarded 80 grants to local organizations. The foundation started with funds from the sale of Mercy Scranton, Mercy Nanticoke, Mercy Tyler, all part of the former Mercy Health System, as a way to retain a local Mercy presence and support ministries in Lackawanna, Luzerne, and Wyoming Counties of Pennsylvania. The foundation serves to develop healthy communities and to commit resources in support of programs that respond to the needs of people who are poor and underserved within these three counties. Through the foresight and encouragement of Sister Virginia Hasson, a deceased Sister of Mercy who served on the board for several years, an on-going emergency fund was established in 2020, (in addition to the regular grant cycle), to respond to emergencies and financial hardships.
Ten local ministries received grants this year – CASA (Court-Appointed Special Advocates) of Luzerne County, CEO (Commission on Economic Opportunity) /Weinberg Food Bank, Child Hunger Outreach Partners (CHOP), Catherine McAuley Center, HANDS (Helping Area Needs for Diverse Services of Wyoming County) , Immanuel Christian School, McGlynn Learning Center, Nativity Miguel School of Scranton, Wyoming County Special Needs Association and WVIA (Northeastern Pennsylvania Educational Television Association). 
Five Sisters of Mercy and others who currently serve on the board  recommend recipients of grants on an annual basis. Through prayer and service, the sisters address the causes and effects of violence, racism, degradation of Earth and injustice to women and immigrants. The sisters serve in more than 200 organizations that work with those in need in the U.S., Central and South America, Jamaica, Guam and the Philippines. www.sistersofmercy.org.  
Locally, the Sisters of Mercy have a 148-year old legacy in Northeastern Pennsylvania of serving in schools, hospitals, social service organizations, community outreach, spiritual counseling and pastoral care. For more than a hundred years they sponsored Mercy hospitals in the area.