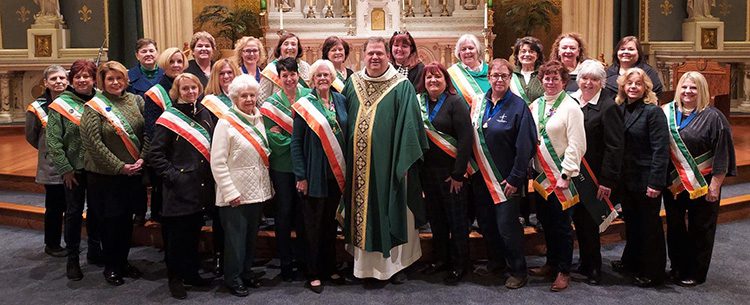 The women of the Ladies Ancient Order of Hibernians of Lackawanna County celebrated Mass on Feb. 1 at Saint Patrick Parish in West Scranton for the Feast of Saint Brigid.
Father Richard E. Fox, pastor, celebrated Mass for the order, whose motto is, "Friendship, Unity and Christian Charity."
Dorothea Crowley currently serves as the Lackawanna County Board president of the LAOH.
Pictured, front row, left to right: Nancy Earyes, Kristin Krowiak, Mary Kate Warner, Chris Lavelle, Elaine Bruno, Fran Kingsley, Nori Connor, Alice McDermott, Dorothea Crowley, Father Richard Fox, Maureen Wallace, Nancy McAndrew Yavoroski, Kate Schneider, Teresa Pelligrino, Karen Savage, and Doreen Gilbride.
Back row, left to right: Mary Kay Sears, Patty Jones, Mary Ann Abdo, Kathleen Connor, Mary Fran Smith, Tammy Jackson, Carolynn Wahl, Michele McDade, Mary Anne McAndrew, and Lori Wagner.