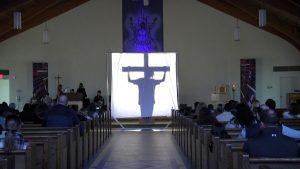 SCOTT TOWNSHIP – As parishioners of Saint John Vianney Parish entered the Season of Lent this year, they were invited to go deeper in their faith by attending a "40 Faith Filled Days Celebration."
Dozens of families turned out on March 6 to witness the parish's seventh and eighth grade students present the Stations of the Cross, present a food donation to Saint Francis of Assisi Kitchen as well as enjoy a family craft activity with an act of fasting, prayer, and giving for each day of Lent.
The "40 Faith Filled Days Celebration" is just one in a series of family-oriented events the parish has hosted since its faith formation program resumed in-person classes last year.
"It's all about gathering God's children together, in love and in faith and in trust," Kristin Travis, Director of Faith Formation at Saint John Vianney Parish, explained. "It's just so important to get our families involved in the faith journey of their children."
Students who participated in the Stations of the Cross – which were presented as "Shadow Stations" behind a screen – say it was a moving experience.
"It's important to show the real presentation of what happened to Jesus," student Gianna Wech said.
Travis encouraged the crowd to reflect on the Stations of the Cross as they were presented.
"As we begin our solemn journey of Lent as a parish community, this is a time to reflect, reconcile and renew our spiritual lives and our relationship with Jesus," she said.
In the weeks leading up to the event, the parish collected more than 600 food items to be donated to Saint Francis of Assisi Kitchen in Scranton.
Rob Williams, Executive Director of Saint Francis Kitchen, attended the event to thank the faith formation students and parents for their efforts.
"The main reason that a food collection like the one here at Saint John Vianney means so much to Saint Francis Kitchen is that we're engaging and involving young people in the mission of the church," Williams said. "Secondarily, we certainly have a need of food – like the jelly, tuna and sauce they collected – so we definitely have people that are in need and can use these items."
Williams spoke to the students about the mission of Saint Francis Kitchen and the agency's goal to treat each person that walks through the doors with dignity and respect.
"It's very moving for me to be here and to see these young people that are taking their faith seriously and that are acting on that faith," Williams added.