PHILADELPHIA (OSV News) – A Philadelphia Catholic school community whose parish has historical ties to St. John Neumann is recovering after a March 21 fire devastated its building.

A three-alarm blaze broke out at Our Mother of Consolation Parish School in the city's Chestnut Hill section just after 3:30 p.m., less than an hour after classes had been dismissed for the day.

A parent collecting her child had alerted school staff to the fire after seeing smoke coming from the roof, according to Sister of St. Joseph Christine Konopelski, pastoral associate for faith formation at OMC, speaking with local media.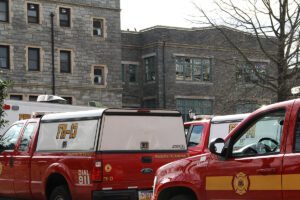 Remaining staff and students were evacuated from the building. The fire was placed under control shortly before 5:30 p.m. and remains under investigation, Philadelphia Fire Commissioner Adam K. Thiel told local media.

One responding firefighter sustained minor injuries and was taken to the hospital for treatment.
OMC pastor Father John Fisher, an Oblate of St. Francis de Sales, told OSV News March 22 it was "a blessing to know we are not mourning the loss of life."
He said that several agencies, including the Bureau of Alcohol, Tobacco, Firearms and Explosives, or ATF, were investigating the cause of the blaze.

Students have been temporarily shifted to a remote learning plan, as damage to the school has shuttered the building "for the remainder of the year," Father Fisher and OMC school principal Patricia Sheetz said in a joint statement issued March 21.

Father Fisher and Sheetz also noted they are "working to identify potential locations in proximity to our parish where the children can begin attending class again in person," having already received "many offers" for space usage, including from "local churches, elementary schools and (nearby) Chestnut Hill College."

The two also said they have been "deluged" by support, with Philadelphia Archbishop Nelson J. Pérez, Auxiliary Bishop Timothy C. Senior and vicar general Msgr. Daniel Kutys expressing concern, along with several elected officials and OMC parishioners, parents and alumni.
Father Fisher told OSV News that the school was "more than an educational building. It was a home where kids felt loved, safe and embraced, and where their faith was nurtured."

The school, which along with the parish buildings is listed on Philadelphia's register of historic places, was first opened in 1862 in an old tenant house donated to the Sisters of Saint Joseph by philanthropist John Middleton, a Quaker who converted to Catholicism. In 1854, Middleton had petitioned St. John Neumann (1811-1860), then bishop of Philadelphia, to create the parish that became OMC, with Middleton largely funding the church's construction.
Amid the loss, Father Fisher said several faculty had noticed signs of hope.
"We were standing on the sidewalk, and they said through the grade four classroom window they could see the cross still hanging on the wall," he said. "And our Blessed Mother statue outside is still going strong."