WASHINGTON (OSV News) – A still-pending ruling by a federal judge in Texas could pull an abortion drug from the market across the United States.
A lawsuit by a coalition of pro-life opponents of the drug mifepristone, the first of two drugs used in a medication or chemical abortion, is demanding the U.S. Food and Drug Administration revoke its approval of the drug.
If U.S. District Judge Matthew Kacsmaryk rules in favor of the plaintiffs, he could issue a nationwide injunction on the sale of mifepristone, as requested by the plaintiffs, which would affect even U.S. states where abortion is legal and the drug is permitted under state law.
Another drug used in combination with mifepristone for abortions, called misoprostol, would still be available. Misoprostol is sometimes prescribed by doctors for early miscarriage, but the FDA has not approved the drug for inducing abortion on its own.
The Catholic Church teaches that all human life is sacred and must be respected from conception to natural death. It opposes direct abortion as an act of violence that takes the life of the unborn child.
In January, the FDA eased restrictions on the sale of mifepristone, the first of two drugs used in a chemical abortion, permitting their sale at retail pharmacies for the first time. The decision followed the Supreme Court's decision last year in Dobbs v. Jackson Women's Health Organization that struck down the 1973 Roe v. Wade decision, after which states moved to restrict or broaden abortion access.
"The FDA approved Mifeprex (mifepristone) more than 20 years ago based on a thorough and comprehensive review of the scientific evidence presented and determined that it was safe and effective for its indicated use," the agency said on its website.
Proponents of the use of mifepristone for abortion argue the court should keep the FDA regulations in place.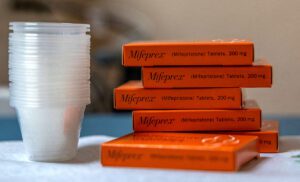 "There's zero justification for removing this medication from the market that isn't political," the ACLU said in a March 15 tweet. "This case should've been laughed out of court."
On its website, the FDA states that mifepristone "is safe when used as indicated and directed" through 10 weeks gestation. The agency's adverse reaction guidelines for the drug state that "serious and sometimes fatal infections and bleeding occur very rarely."
Opponents of mifepristone say those risks are more common and more dangerous than proponents of the drug say.
Dr. Ingrid Skop, a board-certified OB-GYN and senior fellow and director of medical affairs at the Charlotte Lozier Institute, told reporters in a March 21 press call that the lawsuit is about "holding the FDA accountable to its own rules and protecting American women and girls from dangerous drugs."
"Although like approximately 90% of obstetricians, I do not perform elective abortions, I have cared for women in emergency rooms or in my private practice who suffered complications from chemical abortions," Dr. Skop said. "Because they have been told it's safer than Tylenol, they are usually surprised and unprepared when complications occur."
Dr. Skop said the abortion pill is marketed to women as more natural, and as allowing the process to take place "in her own home." But she said that claim is for "the benefit of the abortion industry, not women."
"Few physicians are willing to perform abortions," she said, "so chemical abortions solve staffing problems."
After a March 15 hearing in Amarillo, Texas, Kacsmaryk did not issue a decision, but indicated his ruling would come as soon as possible.