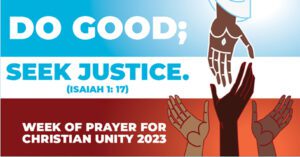 SCRANTON — Faithful throughout the Diocese of Scranton will join with members of various Christian congregations of northeastern Pennsylvania for an Ecumenical Celebration of the Word of God on Thursday, Jan. 19, at 12:10 p.m. in the Cathedral of Saint Peter.
The event highlights the annual Week of Prayer for Christian Unity — celebrated each January since its inception in 1908 — which will be observed this year during Jan. 18-25.
The theme for the 2023 celebration is: "Do Good; Seek Justice." (Isaiah 1:17)
Most Rev. Joseph C. Bambera, Bishop of Scranton, will serve as leader of prayer for the traditional ecumenical prayer service. Past chairman of the U.S. Bishops' Committee on Ecumenical and Interreligious Affairs, Bishop Bambera was elected to reprise the role during the U.S. Conference of Catholic Bishops fall general assembly when he was voted chairman-elect of the interfaith arm of the Bishops' Conference.
Guest homilist for this year's prayer service is Protodeacon Sergei Kapral of the Orthodox Church in America. Well known for his involvement in ecumenical relations, Protodeacon Kapral attended the renowned Bossey Ecumenical Institute in Switzerland and holds membership in numerous organizations promoting ecumenism and concern for the environment.
Students from Holy Rosary School in Duryea will provide the music for the religious gathering, under the direction of David Tighe.
All faithful are welcome to attend the Jan. 19 Ecumenical Prayer Service at the Scranton Cathedral, as well as encouraged to participate in local Christian unity events throughout the weeklong observance.
The prayer service will be broadcast live at 12:10 p.m. on CTV: Catholic Television of the Diocese of Scranton. It will also be made available on the Scranton Diocese website and across all diocesan social media platforms.
As the universal Catholic Church, including local dioceses, immerses itself deeply into the call for a new evangelization proclaimed by Pope Francis through the 2023 Synod on Synodality, both ecumenism and interreligious dialogue have been given prominence in the discussion.
The Vademecum for the Synod on Synodality, the Official Handbook for Listening and Discernment in Local Churches, it is stated: "The dialogue between Christians of different confessions, united by one baptism, has a special place in the synodal journey."
According to Monsignor Vince Grimalia, Diocesan Coordinator for Ecumenical and Interreligious Affairs, the Week of Prayer for Christian Unity provides not only an opportunity for prayer for Christianity, but a time to learn more about various Christian churches and communities while offering motivation and commitment for participation in ecumenical activities.
"It is an opportunity to renew and re-energize our commitment to Christian unity," Monsignor Grimalia said. "In a world with so much disunity, there is a need to overcome divisions and polarization and work to get nations and various ethnic, cultural and language groups to work together."
In accord with such strong beliefs for religious unity, the United Nations since 2010 has celebrated the first week of February as "World Interfaith Harmony Week."
During the annual observance, an "International Day of Human Fraternity" has been designated by the U.N. for Feb. 4 to promote harmony between all peoples, regardless of their religious traditions.