ROARING BROOK TOWNSHIP – A faith formation grant from the Diocesan Annual Appeal is helping the leadership at Saint Eulalia Parish meet the needs of its people.
"In a recent parish survey, one of the top needs identified by the parishioners was their desire to learn more about their faith. On top of that list, they wanted to learn more about the bible," Deacon Nick Rocco said.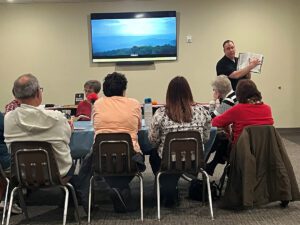 On Nov. 9, Deacon Nick began an eight-part bible study series, 'Unlocking the Mystery of the Bible,' which was attended by more than 25 participants ranging from teenagers to parents and grandparents.
Because part of the program is video-based, Saint Eulalia Parish wanted to upgrade its technology before beginning the series and applied for a $2,750 faith formation grant from the 2023 Diocesan Annual Appeal.
"The faith formation grant that we received from the Diocesan Annual Appeal allowed us to upgrade the audio and video system that we use for our religious education programs. A larger screen with a proper audio system with internet capabilities was necessary for our parish to take advantage of all the great resources available for ongoing faith formation," Deacon Nick added. "Not only is everyone in the room now able to see and hear the program that they are watching, but those with hearing difficulties are now able to read the closed captioning on the screen because it is now large enough for them to be able to read it from across the room."
In addition to the upgraded audio and video system, part of the grant money the parish received was used for a pilgrimage to Our Lady of Martyrs Shrine.
This year, 43 parishes across the Diocese of Scranton received a faith formation grant. Parishes applying for funding needed to lay out specific objectives of their initiatives in one of the four following categories:
• Promotion of Life-Long Discipleship
• Inviting and Welcoming Home Catholic/non-Catholics into the parish
• Providing spiritual support to families, singles, youth and young adults
• Using technology and media to grow faith formation events
While Saint Eulalia's 'Unlocking the Mystery of the Bible' series will continue on Nov. 16 and 30, Jan. 4, 11, 18 and 25, and Feb. 1, Deacon Nick believes it is already successful.
"All present not only loved the first session, but they also commented on how nice it was to watch it on our new A/V system – a huge upgrade from what we had," he said. "As the facilitator of the course and the deacon of the parish, I am beyond thrilled with all the capabilities that this new system has to offer and look forward to offering more faith formation programs for years to come."
PARISHES THAT RECEIVED A FAITH FORMATION GRANT FROM THE 2023 DIOCESAN ANNUAL APPEAL
All Saints Parish, Plymouth $2,676.23
Blessed Virgin Mary, Queen of of Peace Parish, Hawley $3,201.00
Christ the King Parish, Archbald $1,850.00
Epiphany Parish, Sayre $1,554.25
Holy Rosary Parish, Hazleton $750.00
Mary, Mother of God Parish, Scranton $1,500.00
Most Holy Trinity Parish, Susquehanna $2,500.00
Most Holy Trinity Parish, Cresco $4,875.00
Immaculate Heart of Mary Parish, Dushore $600.00
Our Lady of Lourdes Parish, Montoursville $4,469.98
Our Lady of the Snows Parish, Clarks Summit $1,300.00
Our Lady of Victory Parish, Tannersville $4,200.00
Sacred Heart of Jesus Parish, Dupont $5,000.00
Sacred Hearts of Jesus and Mary Parish, Jermyn $3,500.00
Saint Ann Parish, Shohola $1,700.00
Saint Ann Parish, Williamsport $3,000.00
Saint Brigid Parish, Friendsville $2,364.20
Saint Eulalia Parish, Roaring Brook Township $2,750.00
Saint Gregory Parish, Clarks Green $2,500.00
Saint John Bosco Parish, Conyngham $1,000.00
Saint John Parish, East Stroudsburg $5,000.00
Saint John the Evangelist Parish, Pittston $4,570.00
Saint John the Evangelist Parish, Honesdale $3,000.00
Saint John Vianney Parish, Montdale $2,650.00
Saint Joseph the Worker Parish, Williamsport $4,250.00
Saint Luke Parish, Stroudsburg $2,597.40
Saint Nicholas – Saint Mary Parish, Wilkes-Barre $1,100.00
Saint Therese Parish, Shavertown $2,200.00
Saint Thomas More Parish, Lake Ariel $3,100.00
Saint Vincent de Paul Parish, Milford $4,300.00
Visitation of the Blessed Virgin Mary Parish, Dickson City $930.00
LINKED PARISHES THAT WILL SHARE FUNDING
Our Lady of the Abingtons Parish, Dalton
Saint Mary of the Lake Parish, Lake Winola
Saint Patrick Parish, Nicholson $3,546.00
Saint Boniface Parish, Williamsport
Saint Lawrence Parish, South Williamsport $4,000.00
Saint John Neumann Parish, Scranton
Saint Paul of the Cross Parish, Scranton $5,000.00
Saint Joseph Parish, Matamoras
Saint Patrick Parish, Milford $5,122.00
Saint Thomas the Apostle Parish, Elkland
Holy Child Parish, Mansfield
Saint Peter Parish, Wellsboro $11,516.51