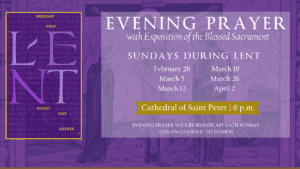 SCRANTON – During Lent, the Cathedral of Saint Peter offers several ways in which the faithful can deepen their relationship with Jesus and come to know Him in a more intimate way.
CTV: Catholic Television of the Diocese of Scranton will make many of these opportunities available to the faithful through television broadcasts and livestream opportunities.
Every Sunday during Lent, the Cathedral will be hosting Lenten Evening Prayer at 6 p.m.
Evening Prayer is part of the Liturgy of the Hours, also known as the Divine Office. In the Liturgy of the Hours, the Church fulfills Jesus' command to "pray always."
Through this prayer, the people of God sanctify the day by continual praise of God and prayers of intercession for the needs of the world.
During Lent, CTV plans to broadcast both the Sunday 5 p.m. Mass live as well as the Sunday Evening Prayer that will begin directly thereafter.
The first broadcast of the Sunday 5 p.m. Mass and Evening Prayer will take place on Sunday, Feb. 26, 2023.