SCRANTON – Twenty-four long days and nights.
That is how long Khalil Yademovich Madadov spent seeking safety in the basement of his home in Eastern Ukraine after the Russian invasion of his country began Feb. 24, 2022. Joined by his wife, Leila, and their three young children in the makeshift shelter, the 37 year old described it as a terrifying time.
"I gathered my family at 4 a.m. and ran to the basement," he said. "Only I went out to look for food and water."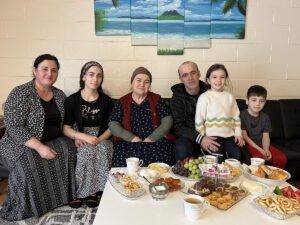 Madadov moved to Ukraine at the age of six and spent 30 years going to school, university, and making a living as a potato and tomato farmer. He says his life was "perfect" until Russia began launching attacks on his country.
"I began praying to God to help me and show me how to protect my family," Madadov explained. "Good news came when we heard about a program called 'Uniting for Ukraine,' a program that saved our lives."
In April 2022, the United States announced the 'Uniting for Ukraine' program. It provides a pathway for Ukrainian citizens and their immediate family members to come to the United States and stay temporarily for a two-year period of parole.
Ukrainians participating in the program must have a supporter in the United States who agrees to provide them with financial support for the duration of their stay in the United States.
Madadov's sister, Lola Ahmetbeg, has lived in the U.S. since 2006 and is serving as sponsors for Madadov and his family.
After traveling four days by bus from Ukraine to Turkey, Madadov and his family finally arrived in the United States last June, four months after the war began.
"I took a very deep breath. I knew then that my family was safe and I was safe," he explained.
After arriving in Scranton, Madadov and his family turned to Catholic Social Services of the Diocese of Scranton for assistance.
Through Refugee Support Services, Catholic Social Services was able to help the family find affordable housing in the Midtown Apartments, enroll their two oldest children in school and help Khalil get the proper work authorization paperwork so he could get a job as a warehouse packer.
"Catholic Social Services helped us find the resources we need to succeed in this new country," Madadov said gratefully. "Thank you for everything you have done for us!"
Gulnar Siddiqi, the case manager who has been helping the family, said Catholic Social Services is always willing to help people in the community.
"I was a refugee when I came to the United States and Catholic Social Services helped me so it is time that we have to stand up for each other and hold each other's hands," Siddiqi said.
With the continued assistance of Catholic Social Services, Khalil Madadov says he feels very comfortable in the United States at this time.
"Our neighborhood is good. We like it here very much," he said. "Thank you very much Catholic Social Services!"