SCRANTON – After working for the last seven years as a Department of Justice Immigration Counselor & Immigration Program Coordinator for Catholic Charities of Southern Colorado, Fikile Ryder, MSCJ, is bringing her knowledge and expertise to Catholic Social Services of the Diocese of Scranton.
Ryder started as the new full-time Director of Community for Catholic Social Services in October 2022. As part of that position, she will be responsible for Immigration and Refugee Resettlement Services.
"The work is very rewarding. I am an immigrant myself so I've been in the same shoes of those that I represent. I know how they feel," she explained.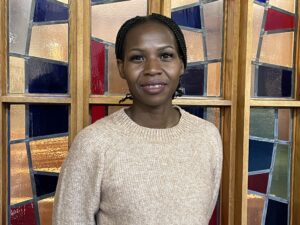 Ryder will oversee five immigration and refugee support programs for Catholic Social Services, many of which were inactive until recently because no employees possessed full accreditation with the U.S. Department of Justice.
"Our agency (Catholic Social Services) is recognized with the Department of Justice. With the immigration program itself, people who work in that program have to be accredited in order for them to do the legal part of the immigration process. If someone leaves the organization, then that accreditation is terminated," she explained.
Joe Mahoney, Diocesan Secretary for Catholic Human Services and Chief Executive Officer of Catholic Social Services, said his agency's work is rooted in the Gospel and Catholic social teaching, which emphasizes that migrants, refugees and asylum seekers are to be cared for with dignity and respect.
"I have known and worked with Fikile for years and she is a tremendous addition to our area," Mahoney said. "She brings amazing skills and diverse experiences and I think we are lucky to be able to hire her."
Born in Zimbabwe, Ryder first came to the United States in 2003 with a temporary work visa after being offered a job in Virginia to work with a child who had autism.
When her contract ended in 2009, she returned to Africa but her boyfriend at the time from America went to Zimbabwe and asked her to marry him.
She then came back to the United States in 2011 with her green card.
"My immigration process was done by Catholic Charities in Pueblo, Colorado, and took about eight months," Ryder explained.
Thankful for the assistance of Catholic Charities, she started volunteering with the agency and was later hired as an administrative assistant. She worked her way up to a fully-accredited Immigration Counselor and Immigration Program Coordinator.
"The accreditation allows me to do everything that an attorney can do, an immigration attorney, like filing paperwork, giving legal advice, legal representation," Ryder explained. "I can go to the United States Citizenship and Immigration Services (USCIS) with the clients and speak on their behalf."
One of the newest refugee support service programs that Ryder now oversees for Catholic Social Services deals specifically with paroled Ukrainians who are referred from either Luzerne or Lackawanna Counties. The main job is to help the individuals find and maintain employment.
"We screen them to find out what kind of skills they have, what kind of availability they have and we also screen them on the barriers that will prevent them from finding a job," she said. "The main goal is to have them be self-sufficient."
Under its Resettlement & Replacement Program, Catholic Social Services helped welcome a family of six to northeastern Pennsylvania on January 24. The United States Conference of Catholic Bishops funds that program.
"They are with us for 90 days. We have to make sure they have a home, the kids are enrolled in school and we find them a job. Any needs they have, we help them in those 90 days," Ryder explained.
While she admits she didn't know much about Scranton before taking her new position, she has been pleasantly surprised how many immigrants and refugees are settling locally.
"I was shocked at how many refugees from Africa are here," she said. "They like Scranton because it is more affordable. We've had people come in from New Jersey and New York wanting to settle here because the cost of living is way too much there."
As she looks towards the future, Ryder says she hopes to educate people on who refugees are and why they are coming to the United States – whether it is because they're fleeing war or persecution. She would also like to begin a volunteer program for the community and work with parishes and schools.
"We have a lot of work and we cannot do it by ourselves," Ryder said. "It would be very helpful to work with our parishes. When I was in Colorado, I collaborated with parishes who provided space for me so that I could do 'Know Your Rights' presentations, consultations and case management services right there in the church."
For more information on Immigration and Refugee Resettlement Services provided by Catholic Social Services, contact Fikile Ryder at (570) 207-2283, x2121 in Scranton and (570) 455-1521, x4304 in Hazleton.