ATHENS – Thirty-five years after her first medical mission trip to Africa, a Bradford County woman will be recognized as the 'Catholic Doctor of the Year' later this month by the Mission Doctors Association.
Dr. Cathy Schanzer, MD, FACS, will be presented with the 'World of Difference Award' on Oct. 22, 2023, at the Los Angeles Archdiocese's Annual Mass for Healthcare Professionals at the Cathedral of Our Lady of the Angels.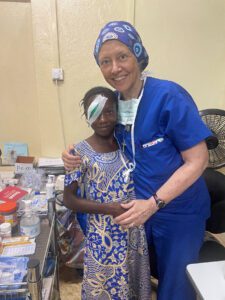 "I'm very proud of the award but I didn't do this by myself," Dr. Schanzer said.
Dr. Schanzer was first inspired to follow a call to missionary service in the third grade when she heard a Maryknoll priest speak about his mission work in Africa.
"I was just enamored with the work that he was doing for all these poor people that were living in underdeveloped countries and I decided as a kid it was something that needed to be a part of my life," the Bradford County doctor said.
After attending the University of Texas Medical School and completing her Ophthalmology residency at Baylor College of Medicine, Dr. Schanzer married her husband, Tom, who became her partner in mission work.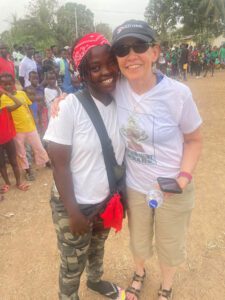 "After I finished residency, I still felt God calling me to do mission work," she said.
In 1988, the couple went on their first medical mission trip to a Catholic Mission Hospital in Abak, Nigeria.
"Neither of us knew exactly what we were doing," Dr. Schanzer admitted.
"I remember them having all these paper signs attached to trees all over the area saying the American eye doctor is coming. That is how they got the word out," Tom added.
Spending two weeks in the Nigerian village, Dr. Schanzer did approximately 75 surgeries and saw 200 patients.
"All of them had these rock-hard cataracts," she remembered.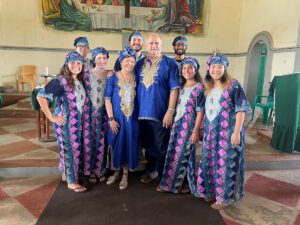 The couple continued with annual mission trips to other African countries including Zimbabwe and Mozambique with the Volunteers in Mission program until the early 2000s. In 2006, Dr. Schanzer and her husband were asked by Archbishop Joseph Ganda, first native priest and bishop of Sierra Leone, to establish the Southern Eye Clinic in the village of Serabu.
The challenges were immense.
"The village had no water and no power. Obviously, since then we've dug nine water wells and used several generators," Cathy explained.
In addition to establishing nine water wells, Cathy and Tom also support numerous community development projects including a computer center, sports activities, food and feeding programs, and educational scholarships and stipends.
"The invitation was kind of like when we adopted our seven children," Tom said. "The conversations were fairly short. We said, God is calling us to do this, he'll see us through this."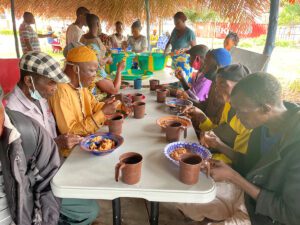 Because Sierra Leone is a very male-dominated country, it took a long time for Dr. Schanzer to receive respect.
"The chiefs weren't interested in talking to me about building the eye clinic. They would only talk to Tom," she said. "They would watch me do the surgeries, turn to Tom, and say, 'Oh Tom, you bring very fine woman with you.'"
Regardless of the challenges, the work has been extremely rewarding.
"It is very life giving. Tom and I both come back from our trips physically exhausted but spiritually uplifted. We feel God's presence in everything that we're doing, whether it's me in the operating room or Tom helping to organize something in the village. We truly know that this is something that God has called us to and guides my hands and guides Tom in doing things in the village," Dr. Schanzer said.
Volunteer mission teams have traveled with Cathy and Tom during the months of January and June each year. This past January they had their busiest trip ever, as five surgeons and one medical student conducted a total of 476 eye surgeries, including on 21 children.
During the rest of the year, 64 employees keep the primary clinic and 10 satellite clinics in nearby villages running.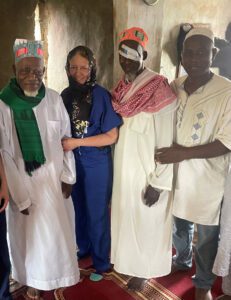 The clinic is one hundred percent charity to all patients for examinations, treatments, medicines, glasses, and surgeries. Patients come to the clinic from seven West African nations.
When they are not serving the village of Serabu, Dr. Schanzer and her husband are active in the Epiphany Parish community, serving on the Pastoral Council, Spiritual Development Committee, and RCIA faculty. The couple are also lectors, Eucharistic Ministers and attend daily Mass.
Earlier this year, Dr. Schanzer was diagnosed with Glioblastoma (brain cancer), a diagnosis that is often terminal in less than two years. Dr. Schanzer had surgery to remove the primary tumor, followed by radiation therapy and continues with chemotherapy. Cathy and Tom feel grateful for their deep faith and the strong worldwide support of family and friends.
"Cathy's future is unknown, of course, but we've developed a strong relationship with ophthalmologists, so our future mission trips are already staffed. Cathy will be able to come and go as her health allows. She can go without pressure," Tom explained.
The mission program started by Dr. Schanzer and her husband, Southern Eye Institute, is funded by private donations and every dollar received is used to assist the needy people in Sierra Leone. For more information, visit TheGiftsofSerabu.com or SouthernEyeInstitute.net or donate to Southern Eye Institute, P.O. Box 771317, Memphis, TN 38177.