Dear Friends,
"Do not be afraid! I know that you are seeking Jesus the crucified. He is not here, for he has been raised just as he said."
These words from Saint Matthew's gospel proclaimed during the great Vigil of Easter, confronted the first followers of Jesus on the day of His resurrection and boldly affirmed God's promise to save his people.
Despite such powerful words of faith that we read in the scriptures and proclaim whenever we gather for the celebration of the Eucharist, the reality of life at times can consume us with grief, pain and fear. These days are no exception.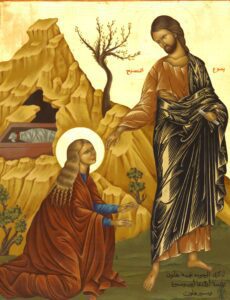 From devastating earthquakes in Syria and Ecuador – to tornadoes that ravaged parts of Mississippi, Arkansas and far too many areas of our land – to once unimaginable school shootings that continue to shatter the security and peace that every child should enjoy – to a senseless war in Ukraine that has raged on for more than a year, leaving death, destruction and shattered dreams in its wake – to our own stories of loss – the scope of suffering and pain that has enveloped our world and our lives is difficult to comprehend.
And so as we have done countless times before in the face of such heartbreak, these sacred days of Holy Week and Easter beckon us to turn to the only place that enables our broken world and lives to find forgiveness, healing, hope and peace: the Paschal Mystery – the Easter miracle – the promise won for us through the suffering, death and resurrection of Jesus!
But how does a mystery fraught with suffering and death provide us with hope?
In his recently published work, Touch the Wounds, the Czech theologian and priest Tomas Halik writes, "there is no other path or other gate to God than that which is opened by a wounded hand and pierced heart." The author goes on to reflect upon the depth of Jesus' love that led him to suffer and to bear the ills of us all, even unto his death on the cross. "Such love represents a force, the only force that survives death itself and overturns its gates with pierced hands." Halik concludes that in resurrecting the doubting apostle Thomas' faith by letting him touch his wounds, Jesus was telling him – and us – that "it is where you touch human suffering, and maybe only there, that you will realize that I am alive, that 'it's me.' You will meet me wherever people suffer. Do not shy away from me in any of those meetings. Do not be afraid. Do not be unbelieving, but believe."
Brothers and sisters, for all that we have experienced throughout the journey of our lives – in joy and gladness, and yes, even in suffering, death and in the many wounds that we have endured – the grace of God does not disappoint! Jesus is risen and lives among us, lifting us from the burdens of this world and carrying us to new life!
As bishop of this great local church of the Diocese of Scranton, I am profoundly touched by the example of your lives. In the midst of all that life unfolds, you continue to live your faith and fulfill the promises of your Baptism. You continue to serve your brothers and sisters. You continue to derive hope from a living relationship with the risen Jesus.
During this Holy Week, I pray that we will all come to appreciate more deeply than ever the fact that we are indeed blessed in more ways than we might believe or imagine. May we hold in our hearts the catechumens and candidates from throughout the Diocese of Scranton who will be baptized into the life, death and resurrection of Jesus and presented for full communion in the Catholic Church. May we trust in God's promise to sustain us and dispel our deepest fears. Moreover, may we open our hearts to the risen Jesus and allow him to fill them with his love and peace.
This is the day that the Lord has made. Let us rejoice and be glad!
Faithfully yours in the Risen Christ,
Most Reverend Joseph C. Bambera, D.D., J.C.L.
Bishop of Scranton