SCRANTON – Less than one year after making a pastoral visit to the Diocese of Sunyani in Ghana, the Most Rev. Joseph C. Bambera, Bishop of Scranton, is planning to return to the African nation.
This time, the trip came about simply by coincidence.
"It was not my expectation that I would be traveling back to Ghana in 12 months from my original trip there last August," Bishop Bambera said. "As providence would have it, the Catholic-Pentecostal Dialogue, which I'm very fortunate to co-chair, is being hosted this year by the Pentecostals. This year, the Pentecostals are inviting us to Accra, the capital of Ghana."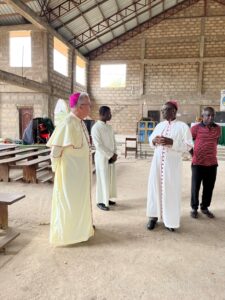 The primary goal of the International Catholic-Pentecostal Dialogue is to foster mutual respect and understanding between the Catholic Church and Classical Pentecostal leaders and churches in light of the prayer of Jesus that all may be one (Jn 17:21). Last year, the Dialogue, which was celebrating its 50th anniversary, was hosted by the Catholics in Rome.
Because Bishop Bambera will already be in Ghana to participate in the International Catholic-Pentecostal Dialogue from July 13-19, 2023, the Bishop of the Diocese of Sunyani has invited him to return to their diocese one week earlier (July 5-12) for a very special reason.
"When it was made known to the priests of the Diocese of Sunyani that the Dialogue would take place in Ghana, their bishop, Bishop Matthew, asked me if I would honor them by celebrating the Ordination Rite for 14 men who are being ordained to the priesthood for their 50th anniversary year as a diocese," Bishop Bambera explained.
Bishop Bambera said it was an honor to be asked to celebrate the Ordination Mass.
"I'm happily returning to Ghana both for ecumenical work and also to once again connect with the Diocese of Sunyani that has been so generous in providing for the needs of our people here in the United States," Bishop Bambera said.
When Bishop Bambera last visited Ghana, Aug. 10-19, 2022, he celebrated the Feast of the Assumption of the Blessed Virgin Mary with more than 15,000 people, while also visiting a seminary, schools, parishes and health care facilities.
On that trip, Father Gerald Shantillo and Father Brian J.T. Clarke joined him, but this time, two seminarians from the Diocese of Scranton will accompany Bishop Bambera.
"On many occasions, the Bishop of Sunyani, Bishop Matthew, invited me to send seminarians over just to experience their country and the background from which many of the priests who are serving in our land come from," he said. "I thought this would be a perfect opportunity to invite our seminarians."
Thomas Dzwonczyk and Andrew McCarroll have agreed to accompany the Bishop to Ghana.
"I'm really thrilled to be able to have them, not only to travel with, but more importantly to experience the Diocese of Sunyani and the African people," Bishop Bambera noted. "I will be with them half the time. I will leave Sunyani after about a week and then travel to Accra for the Dialogue and while I'm in Accra, the seminarians will be hosted by the priests of Sunyani and the Bishop as well."