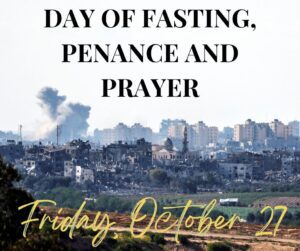 At his General Audience in Saint Peter's Square last week, Pope Francis called for this Friday, October 27, 2023, to be a Day of Fasting, Penance and Prayer for the intention of peace in the world, especially in Israel and Palestine.
In making his announcement, the Holy Father said that "war does not solve any problems, it only sows death and destruction. It increases hatred, multiples revenge. War erases the future."
All clergy and lay faithful throughout the Diocese of Scranton are being encouraged to observe this Day of Fasting, Penance and Prayer for Peace.
Parishioners in the Diocese are always encouraged to join in person, or via our televised and livestream Daily Mass celebration from the Cathedral of Saint Peter in Scranton on Friday at 12:10 p.m.
Let us ask Our Lady, Queen of Peace, to intercede for us as we pray for peace in our world.