DORRANCE TOWNSHIP – The weather could not have been better July 10 as 184 golfers hit the links for the 13th Vocations Golf Classic at Blue Ridge Trail Golf Club.
The tournament, held in memory of John A. Yourishen Jr., brought together men and women from every corner of the Diocese of Scranton.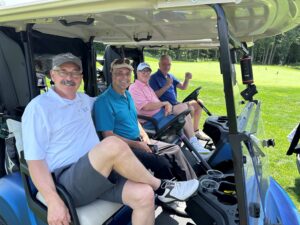 "This tournament is a great way to bring people from East Stroudsburg, Williamsport, the Northern Tier, Scranton and Wilkes-Barre together to recognize that we're one church," Rev. Alex Roche, Director of Vocations and Seminarians, explained.
Proceeds from the tournament support seminarian expenses, education and training.
"Many of our parishes support this tournament. The priests and pastors support it personally. They send parish teams so it is really a unifying event for the diocese," Sandra Snyder, Diocesan Director of Foundation Relations and Special Events, added.
Seminarian Jacob Mutchler, who will be entering his second year of pre-theology at Saint Vincent's Seminary this fall, joked that he would be staying "off the greens" for everyone's safety. However, he loved being at the tournament so he could connect with supporters on a personal level.
"You get a special perspective when we have events like this, to see all of our generous supporters coming together in fellowship and recreation but also knowing that they're really supporting us with their prayers regularly as well," he said.
This is the second year Nathan Coates from Plymouth has participated in the tournament. He enjoys getting to interact with the many priests who attend.
"It is nice to talk to them about regular life and golf," Coates said. "It's fun to see them out here doing the same thing we love."
The tournament relies on dozens of generous sponsors, like Tom and Mari Hendrian of Clarks Summit, to be successful.
"We're just really excited to be here to support them (our seminarians) and their studies," Tom Hendrian explained.
A full listing of golf tournament sponsors will appear in the August edition of The Catholic Light.