VATICAN CITY (CNS) – The Vatican Philatelic and Numismatic Office is marking the 10th anniversary of Pope Francis' election with a series of four postage stamps.
"We want to celebrate some of the most significant moments of Pope Francis' pontificate," the office said in a statement announcing the stamps would go on sale Feb. 27, just about two weeks before the anniversary of the pope's election March 13, 2013.
The 1.20-euro stamp features a photo of Pope Francis praying during the Mass he celebrated to inaugurate his papacy March 19, 2013.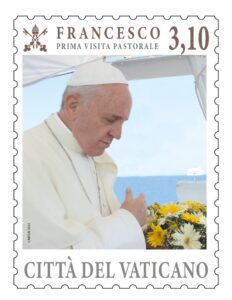 The photo on the 1.25-euro stamp shows Pope Francis kissing the Book of the Gospels and, the office said, was chosen to celebrate the Sunday of the Word of God, a celebration Pope Francis decided in 2019 to add to the church's calendar.
The third stamp, carrying a value of 2.40 euros, shows Pope Francis smiling during the sacrament of reconciliation and marks his institution of the "24 Hours for the Lord," a Lenten observance in Rome and at the Vatican focused on making confession widely and easily available.
The final stamp, with a face value of 3.10 euros, features a photo from Pope Francis' first pastoral trip outside of Rome. He flew to the Italian island of Lampedusa July 8, 2013, to pray for the thousands of migrants who had lost their lives trying to cross the Mediterranean, to offer words of hope to the asylum seekers who had made the crossing and to encourage everyone to help the newcomers.