The Most Reverend James C. Timlin, D.D., eighth Bishop of Scranton, died on Easter Sunday morning, April 9, 2023, at Marywood Heights in Scranton. He was 95.
The native son of Scranton was ordained a Bishop on Sept. 21, 1976, and on June 7, 1984, became the first man born within the Diocese of Scranton to serve as its shepherd.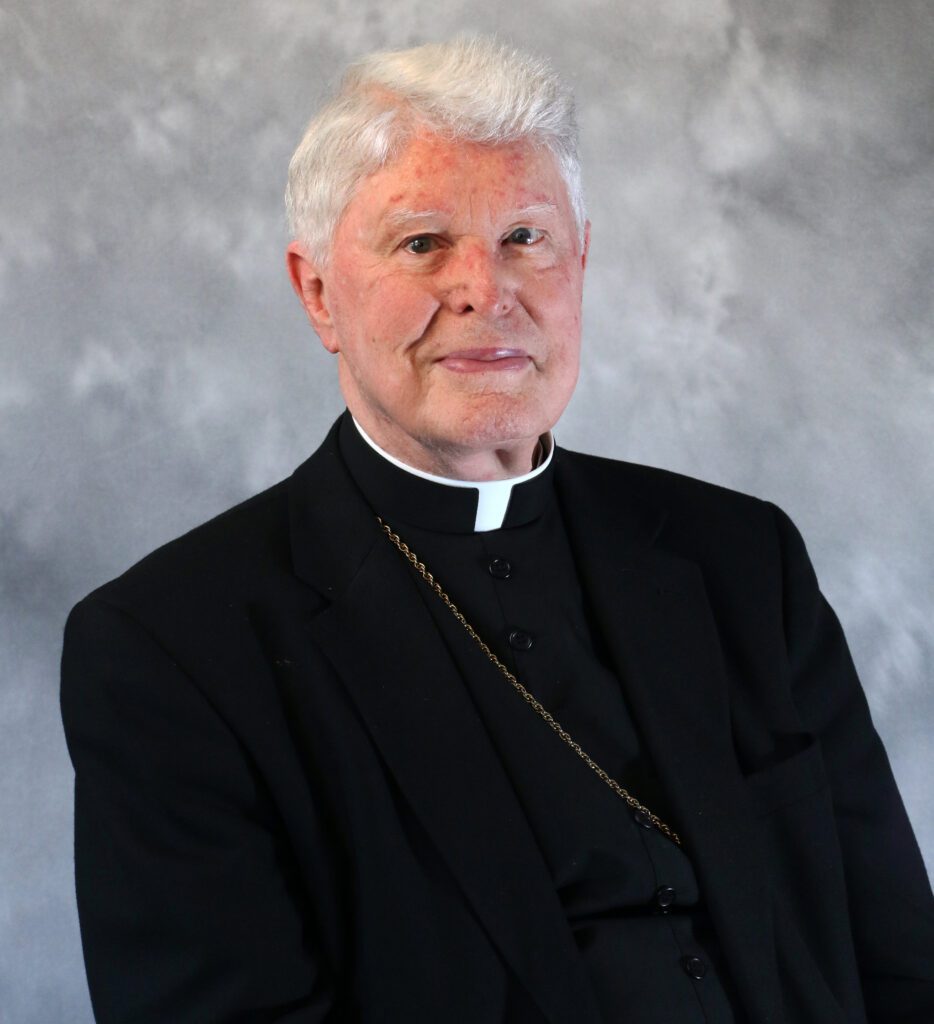 Timlin was born in the High Works section of Scranton on Aug. 5, 1927, son of the late James C. and Helen Norton Timlin, members of Holy Rosary Parish in the Providence section of Scranton.
Bishop Timlin received his early education at Saint John the Evangelist Elementary School in South Scranton and graduated from Holy Rosary High School, North Scranton. He began his studies for the priesthood at Saint Charles College, Catonsville, Md., and Saint Mary's Seminary, Baltimore, before enrolling in the North American College in Rome.
Bishop Timlin was ordained to the priesthood in Rome by Scranton native Archbishop Martin J. O'Connor, then-rector of North American College, on July 16, 1951. Following his ordination, he continued his studies in theology in Rome before returning to his home Diocese, at which time he was appointed assistant pastor of Saint John the Evangelist Parish, Pittston, in 1952.
On June 12, 1953, the future Bishop was assigned to the Cathedral Parish of Saint Peter, Scranton, where he served as assistant pastor until Sept. 12, 1966, when he was named assistant chancellor of the Diocese and secretary to the Most Rev. J. Carroll McCormick, sixth bishop of Scranton.
Bishop Timlin was elevated to the rank of Monsignor when he was named a Prelate of His Holiness by Pope Paul VI on April 23, 1972.
He served as chairman of the Diocesan Liturgical Commission and the Priests' Education Committee, as well as librarian and secretary at Saint Pius X Seminary in Dalton. On July 26, 1972, he was appointed to the Diocesan Board of Consultors, and on May 30, 1975, was elected president of the Board of Directors of The Catholic Light diocesan newspaper.
Named Auxiliary Bishop of Scranton on Aug. 3, 1976, Bishop Timlin received his episcopal ordination in the Cathedral of Saint Peter on Sept. 21, 1976, when he also began his duties as Vicar General of the Diocese. He would serve a five-year term as Episcopal Moderator of the National Association of Holy Name Societies and, as Auxiliary Bishop, was appointed as pastor of Nativity of Our Lord Parish, South Scranton, on Sept. 4, 1979.
Bishop John J. O'Connor, seventh bishop of Scranton and future Cardinal Archbishop of New York, appointed Bishop Timlin chairman of the Saint Pius X Seminary Board of Advisors and chairman of the Preparatory Commission for the Diocesan Synod on July 28, 1983.
Upon Bishop O'Connor's transfer to the Archdiocese of New York in March of 1984, Bishop Timlin was elected Apostolic Administrator by the Diocesan Board of Consultors. He was appointed eighth bishop of Scranton by His Holiness, Pope Saint John Paul II, on April 24, 1984, and was installed on June 7 of that year.
Bishop Timlin's 19-year episcopacy as Shepherd of the Scranton See — the second-longest thus far in Diocesan history — saw the Scranton native son preside over the grand celebrations commemorating the 125th Anniversary of the Diocese of Scranton in 1993.
Bishop Timlin has served as a member of the National Advisory Council and the Administrative Committee of the National Conference of Catholic Bishops, and Chairman of Region III of the National Conference of Catholic Bishops. He also served a five-year term as President of the Institute for Religious Life, and was appointed by Pope Saint John Paul II to the Synod of Bishops on Consecrated Life in 1994.
Bishop Timlin served a ten-year term as Episcopal Liaison to the Civil Aviation Apostolate, and as a consultant to the Bishop's Committee on Migration. He also served as Chairman of the Roman Catholic-Polish National Catholic Dialogue and as a consultant to the Secretariat for Ecumenical and Interreligious Affairs.
With his 75th birthday looming on the horizon in 2002, Bishop Timlin, as required by Canon Law, submitted his resignation to the Holy See. Publication of the acceptance of the resignation by the Holy Father occurred on July 25, 2002, and five days later, the Diocesan Board of Consultors elected the Bishop as Apostolic Administrator of the Diocese.
He would fulfill the administrative duties until Sept. 30, 2003, the day before his successor, Bishop Joseph F. Martino, was installed as the ninth bishop of Scranton in the Cathedral of Saint Peter.
While holding the title of Bishop Emeritus, Bishop Timlin was appointed administrator of Saint Joseph Church in Wilkes-Barre on Feb. 4, 2004, and on July 6, 2004, he assumed new duties as rector of Villa Saint Joseph, the home for retired priests of the Diocese in Dunmore.
In addition to his parents, Bishop Timlin was preceded in death by his sisters, Patricia Timlin Duffy and Eleanor Timlin; aunts Margaret Timlin McAndrew, Frances Timlin Walsh Langan and Catherine Timlin Jenkins; a niece, Mary Catherine Duffy Bell Lucker; and several cousins. Surviving are several great-nieces, great-nephews and cousins.
At Bishop Timlin's request, a private viewing for family members and the celebration of Vespers will take place on Monday, April 17, 2023.
Public visitation for Bishop Timlin will be held on Tuesday, April 18, at the Cathedral of Saint Peter, 315 Wyoming Avenue, Scranton, Pa., from 9 a.m. – 1:45 p.m. A Pontifical Mass of Christian Burial will be celebrated by the Most Reverend Joseph C. Bambera, D.D., J.C.L., Bishop of Scranton, directly following at 2 p.m.
Interment will be in Cathedral Cemetery.
Memorials may be made to Catholic Social Services of the Diocese of Scranton or the Diocese of Scranton Catholic Schools Scholarship Foundation.
In response to learning of the passing of Bishop Timlin, the Most Reverend Joseph C. Bambera, Bishop of Scranton, said the following:
"On behalf of the priests, deacons, religious and laity of the Diocese of Scranton, I extend my sympathy, condolences and prayers to Bishop Timlin's family and friends," Bishop Bambera said. "Bishop Timlin was a prayerful man devoted to serving the faithful of northeastern and north central Pennsylvania as a priest and bishop for more than 70 years. May God grant Bishop Timlin the gift of eternal life and give consolation to all those who loved and respected him."
The Most Reverend Nelson J. Perez, D.D., Archbishop of Philadelphia, also released a statement regarding the death of Bishop Timlin:
"I was saddened to learn of the death of Most Reverend James C. Timlin, D.D., Bishop Emeritus of Scranton, on Easter Sunday. In the name of the Church of Philadelphia, I extend prayerful condolences to Bishop Timlin's family and friends as well as the priests, religious, and lay faithful of the Diocese of Scranton. May God grant Bishop Timlin the gift of eternal life and give peace and consolation to all those who mourn his passing."