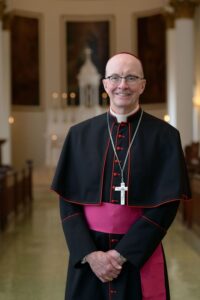 SCRANTON (April 25, 2023) – The Most Reverend Joseph C. Bambera, Bishop of Scranton, released the following statement on the announcement of the Most Reverend Timothy C. Senior being named Twelfth Bishop of Harrisburg on Tuesday, April 25, 2023:
"As Bishop of the Diocese of Scranton, I am delighted to extend congratulations, best wishes and prayers to Bishop-designate Timothy C. Senior, who has been appointed by our Holy Father, Pope Francis, to become the twelfth Bishop of the Diocese of Harrisburg.
"Bishop-designate Senior brings wide ranging pastoral and administrative experience to his new position, which will undoubtedly help him to shepherd the faithful of the 15-counties that make up the Harrisburg Diocese. Having known Bishop Senior well and having worked with him on issues facing the Church here in Pennsylvania for many years, I have no doubt that he will dedicate himself
tirelessly to promoting the Gospel message and the mission of Jesus Christ.
"I ask the faithful of the Diocese of Scranton to join me in praying for Bishop-designate Senior as he prepares to accept this new assignment.
"On behalf of the priests, deacons, religious, and lay faithful of the Diocese of Scranton, I also extend heartfelt congratulations to Bishop Ronald W. Gainer who has led the Diocese of Harrisburg since 2014 and now will become Bishop Emeritus."