BALTIMORE, Md. – After a busy summer for many of our Diocesan seminarians – in which several attended World Youth Day in Portugal and two visited the Diocese of Sunyani in Ghana – a new semester of classes has just gotten underway.
Five seminarians are attending classes this fall at Saint Mary's Seminary and University in Baltimore. Three are attending Saint Vincent Seminary in Latrobe, one will be studying at Saint Andrew's College Seminary in S. Orange, N.J., and the final seminarian is serving his pastoral year at Saint Boniface and Saint Lawrence Parishes in Lycoming County.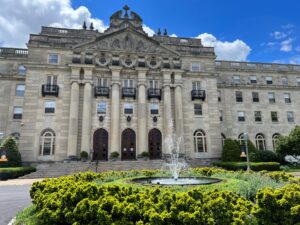 At Saint Mary's Seminary and University in Baltimore, Harrison Rapp of Dunmore has just entered his second year studying theology.
Since its founding in 1791, Saint Mary's Seminary has been supporting the formation of Holy men, including many from the Diocese of Scranton.
"It is really an intentional time to be with God and to just open your heart to the ways in which God wants to lead us," Rapp said.
At Saint Mary's Seminary, men begin their day with Morning Prayer as a community. There is also Adoration, Mass during the day and Evening Prayer in addition to academic classes.
Saint Mary's currently serves 13 dioceses in the United States and Canada but also welcomes men from Africa, China and Vietnam.
"It's good because you do get to see a lot of different perspectives in the way the church operates in their own respective locations in the United States and abroad," Rapp added.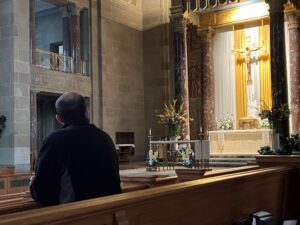 Seminarian Jeremy Barket of Dupont studied theology at Saint Mary's during the last academic year.
"The whole environment, inside and outside, is very conducive to having a very spiritual and prayerful atmosphere. There are so many times where I'll just walk around the whole seminary and just pray a rosary," he said.
Barket describes seminary as a community of men who want to grow closer to Christ.
"We're normal guys. We just happen to pray a lot," he said with a smile.
Before being ordained a priest in June, Father Michael Boris spent four years at Saint Mary's Seminary.
"It was just a wonderful place of prayer and discernment," Father Boris said.
Father Boris benefited from many mentors and spiritual directors as well as the classes he took.
He knows it is only because of the generous financial support from parishioners that his seminary experience was possible.
"To give somebody an education, to feed somebody, to house somebody, requires money," Father Boris noted.
Your gifts to the Diocesan Annual Appeal go directly to supporting our future priests who will faithfully lead our parishes in the decades ahead.
The Diocese of Scranton currently has ten highly talented men in priestly formation.
You help pay for their education, helping to form each man intellectually, pastorally and spiritually – so in return – they can share the love of the Gospel with all people.
"You're investing in us, but you're also investing in your own diocese and the future of the diocese as well," Barket said.
"You can really recognize and be grateful for the importance of the gifts that have been given to us, from our housing to our food to our classes. All of that means a great deal," Rapp added. "I've really benefited from my experience here so far. It has been blessed. I love the community life and I do look forward to continuing the journey!"