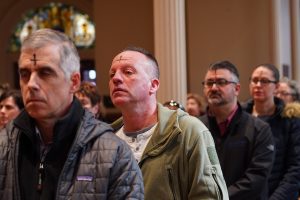 SCRANTON – On Ash Wednesday, March 2, 2022, the Most Reverend Joseph C. Bambera, Bishop of Scranton, served as celebrant and homilist for the 12:10 p.m. Mass at the Cathedral of Saint Peter in Scranton.
As the Season of Lent began, the bishop reminded the faithful that our Lenten journey draws us to the very heart of what it means to be a Christian by entering this time for sacrifice and spiritual renewal.
Bishop Bambera invited those in attendance to reflect on Pope Francis' Lenten message, which takes root from Saint Paul's words in his letter to the Galatians: "Let us not grow tired of doing good, for in due time we shall reap our harvest, if we do not give up. So then, while we have the opportunity, let us do good to all" (Galatians 6:9-10).
"In quoting Saint Paul, the Holy Father invites us to reflect upon the urgency of using the time that God has given to each of us to sow goodness in our lives and in our world with a view to a future harvest," Bishop Bambera said.
The bishop also explained how Pope Francis asked the faithful to use Ash Wednesday as a time of prayer and fasting for our suffering brothers and sisters in Ukraine.
"May our prayers rise to the heavens as we implore our God to sustain these good and innocent people and bring an end to the senseless aggression that is being laid upon them. May we sacrifice for their sake and may we give from our bounty to generously support them in their fight against evil," the Bishop explained.