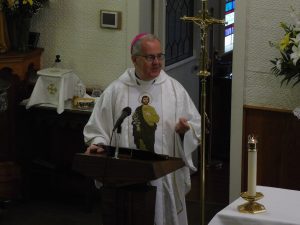 RILEYVILLE – With a banner hanging outside Saint Joseph Church announcing its 150th anniversary, parishioners in northern Wayne County gathered on Aug. 22 to celebrate the special milestone of their house of worship.
The Most Rev. Joseph C. Bambera, Bishop of Scranton, served as principal celebrant for a Pontifical Concelebrated Mass of Thanksgiving marking the sesquicentennial anniversary of the church.
"For all of the memories that are likely flooding the minds and hearts of all of us who gather this morning, I suspect that when we recall events that have taken place in our lives in relationship to Saint Joseph Church, we are more likely to recall certain people than merely a place," Bishop Bambera said during his homily.
The bishop explained a personal connection to Saint Joseph Church. When he was a young, he would often attend Mass at the church while staying with his father at a nearby hunting lodge on weekends. Even as a young boy, the bishop noted the welcoming atmosphere the parish offered.
In encouraging people to reflect on the fact that a parish is much more than just a building, Bishop Bambera used the words of Saint John Paul II. As the late Holy Father indicated, a parish is "the family of God, a fellowship afire with a unifying spirit."
On the milestone anniversary for Saint Joseph Church, the bishop said the celebration should remind parishioners of who they are as Catholic Christians, remind them of the need to engage a power in life bigger than themselves and reinforce that we receive the Holy Eucharist for mission.
"Right here in Rileyville, look at the mission that you've embraced for the past 150 years. You have celebrated life and called one another to a profound respect for that sublime gift. You have taught people about our faith. You have fed families and clothed the poor. You have healed bodies and spirits, consoled, buried and converted hearts to the Lord. You have done Christ's work!" the bishop noted.
The anniversary Mass took place on the 21st Week in Ordinary Time, when the Gospel message indicated that many of Jesus' followers were having a difficult time understanding his teaching about the Eucharist and many walked away.
The bishop noted that parishioners at Saint Joseph Church have stayed through the power of God at work in their lives.
"It is pretty obvious that you stay a part of this church because of your faith – a faith that enables you to see and experience signs of hope and signs of God's life, his mercy and his love!" the bishop noted.
Saint Joseph Church was established in 1871 as a mission worship site of Saint Juliana Parish at Rock Lake. In 1944, the care of Saint Joseph's was assumed by Saint Mary Magdalen Parish, Honesdale, with Saint John the Evangelist taking over the guardianship of the small mission church three years later.