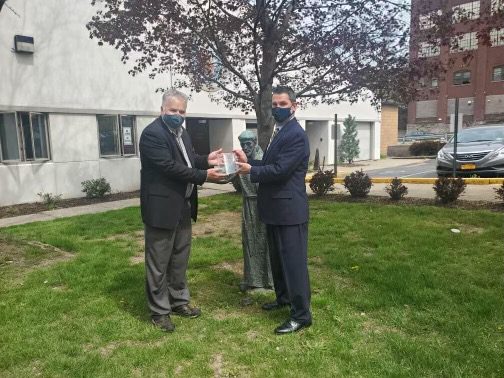 SCRANTON – Rob Williams is not someone who seeks the spotlight or recognition. When it comes his way, he always tries to redirect the attention to the organization he leads.
A perfect example of that came in April when Williams, Executive Director of the Saint Francis of Assisi Kitchen & Food and Clothing Pantry, received the Community Service Award from the Lackawanna Bar Association.
"I was very surprised and happy," Williams told The Catholic Light in a recent interview. "I do what I do not for acknowledgment or to be noticed. I just keep trying to follow God's will and do what He is asking me to do."
Saint Francis of Assisi Kitchen serves the poor and vulnerable in the Scranton area by providing a free, hot, nutritious meal to guests everyday of the year. Staff strive to be of assistance to others and serve with a spirit of compassion, respect and dignity.
Williams became the kitchen's first 'lay leader' in 2019. Prior to arriving in Scranton, he spent 20 years in Youth and Young Adult Ministry in the Diocese of Harrisburg.
"I love doing what I do and I feel called by God. I really do believe I'm here right now in this place, right now in this moment by God's invitation," he explained.
Williams often cites the vision Monsignor Constantine Siconolfi had in 1978 when the kitchen first opened its doors.
"Monsignor Siconolfi put it well when he said: 'Keep it simple, the message is that we feed the poor and the hungry. That is what we're about,'" Williams reflected.
The last 14 months have been anything but simple.
The COVID-19 pandemic forced the kitchen to change its method of operating but the organization easily adapted to the challenges. That makes the recognition of Williams by the Lackawanna Bar Association even more special.
"We stayed open every single day during the pandemic. We didn't miss a beat in the last year in terms of serving the poor and the vulnerable," Williams said.
In March 2020, at the beginning of the coronavirus, Saint Francis Kitchen transitioned its "sit down" meals to "take out" meals. The dining room reopened this Easter for people to eat inside and enjoy fellowship.
"It doesn't matter how we deliver the food, as long as we keep delivering the food," Williams explained.
Williams says the kitchen would not have been able to continue its mission without its volunteers. Because of the pandemic, a small core group of volunteers helped everything stay afloat.
"We had volunteers that were spending three or four hours a day, for five or six days a week for ten or eleven months," Williams explained. "It is extraordinary. It blows me away to witness their generosity. It is not just God working through me. It's me witnessing God working through all those folks."
Williams says God's desire is what is most important.
"It is not just good people doing good things. We are working on behalf of God and the Church. This is a real, tangible expression of God's love, of the Gospel message incarnated," Williams expressed.
Saint Francis Kitchen just completed its 2021 "Host for a Day" fundraising campaign. Williams describes the effort as "wildly successful."
Receiving more than 1,000 individual donations, the event is the kitchen's biggest fundraiser of the year.
"People's generosity in the last year or two has been phenomenal," he said.
As he looks toward the future, post coronavirus, the father of four only sees bright days ahead for Saint Francis Kitchen.
"We are going to come out of the pandemic stronger," he said. When asked about his role in making the kitchen stay successful, Williams replied, "the main part of my role is to be the keeper of the vision and the animator of the mission!"