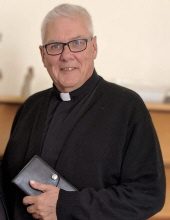 OBITUARY
REVEREND JOHN EDWARD MELNICK
Reverend John Edward Melnick, a priest of the Diocese of Scranton, retired in the Archdiocese of Kansas City, passed away on January 15, 2023 while awaiting a lung transplant.
Reverend Melnick, son of the late Edward Constant Melnick and Beverly Anne (Mackenzie) Melnick, was born in Glace Bay, Nova Scotia, Canada on February 28, 1960.    Father received his seminary education at St. Augustine Seminary, Toronto, Ontario and was ordained to the priesthood for the Order of Saint Augustine, on June 14, 1986.
Father came to minister in the Diocese of Scranton in 1996 and was incardinated on January 2, 2001.  He served as Pastor, St. Michael Church, Scranton, from June 1999 to July 2000.  Father served as Assistant Pastor, St. Gabriel Parish, Hazleton from July 2000 to August 2002 when he was appointed Pastor, St. Ann, St. Anthony, St. Casimir, St. John Nepomucene, Freeland where he served from August 2002 to July 2009. 
In July 2009, Father left the Diocese of Scranton and taught at Donnelly College while considering incardination into the Society of Saint Augustine, Archdiocese of Kansas City, Kansas.
A Pontifical Mass of Christian Burial will be celebrated by the Most Reverend Joseph F. Naumann, Archbishop of Kansas City, on Wednesday, January 25, 2023, 10:00 a.m. CT (Central Time) at St. Mary-St. Anthony Church, Kansas City.  Livestreaming of the Funeral Mass will be accessible 10:00 a.m. CT at https://www.facebook.com/.SkradskiFuneralHome/