ROME (CNS) – After spending the night in the hospital, Pope Francis is "steadily improving" from a respiratory infection and continuing his planned course of treatment, the Vatican press office said.
After he "rested well overnight," the Vatican said March 30, he "read some newspapers after eating breakfast and has resumed working."
Before lunch, Pope Francis received the Eucharist in the chapel near his room at Rome's Gemelli hospital, the statement said.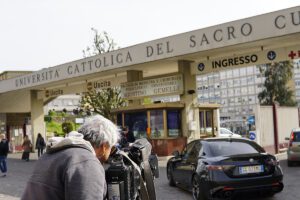 Pope Francis was admitted to Gemelli hospital March 29 after having trouble breathing.
The Vatican said that the pope had complained of "some respiratory difficulties" in recent days and was admitted to the hospital for medical tests, the results of which detected a "respiratory infection" but excluded COVID-19.
The 86-year-old pope is missing a piece of his lung that was removed in 1957 when he was 20 years old and training to become a priest in his native Argentina. He has insisted the operation has had no lasting impact on his health.
Photographers, television cameras and reporters waited outside the hospital March 30, but they formed the only crowd gathered there for the pope.
Before going to the hospital, Pope Francis held his weekly general audience in St. Peter's Square and showed no obvious signs of breathing problems.
The Vatican originally said the pope was taken to the hospital for "previously planned tests," and later stated that he would remain the hospital for a few days. Pope Francis' scheduled meetings for March 30 and 31 were cancelled "to make room in his agenda for the tests to continue," an official said.
"Pope Francis is touched by the many messages received and expresses his gratitude for the closeness and prayer," the Vatican said in its second statement March 29.
Italian media reported that the pope was taken to the hospital in an ambulance, but the Vatican press office refused to comment on those reports.
The Gemelli hospital, part of the Catholic University of the Sacred Heart, keeps a suite of rooms reserved for the popes on its 10th floor.
Pope Francis had spent 10 days there in July 2021 after undergoing a three-hour surgery that included a left hemicolectomy, which is the removal of the descending part of the colon, a surgery that can be recommended to treat diverticulitis.
In late January, the pope told the Associated Press that his diverticulitis had returned, but insisted he was in good health for his age.
In an interview with the Reuters news agency in July 2022, he dismissed as "court gossip" rumors that cancer was found during his colon operation.