VATICAN CITY (CNS) – Pope Francis will visit the Shrine of Our Lady of Fátima during his trip to Portugal for World Youth Day 2023, the Vatican said.
In a statement May 22, Matteo Bruni, director of the Holy See Press Office, confirmed that the pope will travel to Lisbon Aug. 2-6 and will visit the Shrine of Our Lady of Fátima Aug. 5.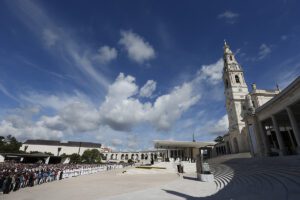 Pope Francis, who repeatedly has said he intended to be in Lisbon for World Youth Day, had not spoken publicly about also going to Fátima in August. In October 2022, he publicly registered to attend World Youth Day as a pilgrim with the help of two Portuguese university students after praying the Angelus from the window of the papal apartments overlooking St. Peter's Square.
The Marian shrine at Fátima is connected to Pope Francis' public prayer appeals for an end the war in Ukraine. In March 2022, just over one month after Russia launched its full-scale invasion of Ukraine, the pope consecrated both countries to Mary's immaculate heart, praying before a statue of Our Lady of Fátima in St. Peter's Basilica. Before her death, Sister Lúcia dos Santos, one of the three Portuguese children who claimed to see apparitions of Our Lady of Fátima in 1917, had said Mary requested that Russia be consecrated to her immaculate heart by a reigning pope to bring peace to the world.
Previous popes had consecrated Russia to Mary's immaculate heart in various forms but had never mentioned the country by name as Pope Francis did in 2022.
In 2017, Pope Francis celebrated Mass at the shrine to mark 100 years since the apparitions of Our Lady of Fátima as part of a quick trip to Portugal that lasted just over 24 hours. He canonized Francisco Marto and Jacinta Marto, the cousins of Sister dos Santos, who also saw Mary at Fátima. Francisco in 1919 at the age of 10, while Jacinta succumbed to her illness in 1920 at the age of 9. Sister dos Santos died in 2005 at the age of 97.