(OSV News) – A new study indicates Americans are pleased with virtual religious services, but more prefer to attend in person now that the COVID-19 public health emergency has officially ended.

About a quarter of U.S. adults regularly watch religious services online, with 21% using apps or websites to aid Scripture reading, according to a report released June 2 by the Pew Research Center.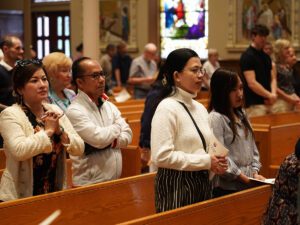 Pew surveyed more than 11,000 respondents in November 2022, well after the pandemic's peak but before the U.S. government officially declared it over. Over half (57%) said they do not generally attend religious services, either in person or virtually.

Researchers said the online and television worship driven by COVID lockdowns remains popular with 25% of those surveyed. Two thirds of those polled said they were "extremely" or "very satisfied" with the experience.
"When asked why they watch religious services online or on TV, many regular viewers cite multiple reasons," Pew stated in a summary of the survey data. "But as the COVID-19 pandemic recedes, convenience is the most-commonly selected option — not fear of catching or spreading any illness."

Worshippers who opt for a mix of in-person and online worship strongly favor the former by a margin of 76% to 11%. Black American adults were found to be "more engaged with digital technology in their religious lives," with 48% saying they watched religious services online or on television at least once a month, according to the study.

Yet respondents who attended in person expressed even greater enthusiasm for their experience, with 74% extremely or very satisfied with the sermons and 69% with service music.

The preference for in-person attendance is "not shocking," said Father Thomas Dailey, professor of homiletics and social communications at St. Charles Borromeo Seminary in Wynnewood, Pennsylvania.

Post pandemic, the challenge is to use livestream worship creatively as a tool for driving authentic community among the faithful, he told OSV News.

"The number of people who said in the survey they watch online because they can't otherwise get there is, to me, the reason for continuing to livestream," said Father Dailey, an Oblate of St. Francis de Sales.
Of Catholic adults who regularly watch religious services online or on TV, 16% said an illness or disability preventing them from attending in person was a "major reason" for watching religious services on TV or online, and 23% identified it as a "minor reason."

Father Dailey stressed that "the fullness of liturgical participation is hearing the word and receiving the Eucharist."

"Obviously, you can't receive the Eucharist online," he said. "But if there is some mechanism by which we can provide the Eucharist to those not physically present at the celebration of Mass, that's something that enables people to participate more fully."

Livestreamed liturgies, combined with extraordinary ministers of holy Communion for the homebound, can do just that, he said.

"The person who can't get to church can participate in the worship online, and then receive the Eucharist from that Mass with an extraordinary minister bringing it to them," said Father Dailey. "Obviously, there's a time gap, but you facilitate participation in the Mass as best one can."

The same arrangement can benefit merged and rural parishes, where priests are stretched thin to cover the celebration of Mass, Father Dailey said.

"You can imagine Mass being celebrated in the nearest city or deanery church, livestreamed to the distant rural churches, where the faithful gather and can receive the sacrament" from permanent deacons or extraordinary ministers of holy Communion, he said.

That approach avoids "sitting at home watching Mass," he added.

"Our worship is by definition communal," said Father Dailey. "It's about communion with God, yes, but also with one another."