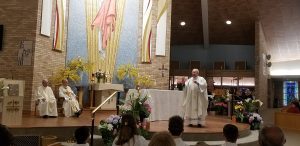 PECKVILLE – The COVID-19 pandemic may have delayed the party but there was no way it was going to cancel the celebration.
On April 23, 2022, one year after it was originally scheduled to take place, hundreds of people gathered at Sacred Heart of Jesus Church in Peckville to celebrate the parish's 75th anniversary.
The celebration began with a Jubilee Mass celebrated by the Most Reverend Joseph C. Bambera, Bishop of Scranton, and continued well into the night with a dinner at Fiorelli Family Catering.
"What a great, great joy this is for me to join with all of you who are a part of this great community here at Sacred Heart in Peckville to celebrate 75 years of life, love, ministry and service, proclaiming the Gospel and the Good News of Jesus Christ," Bishop Bambera said as he welcomed the faithful to Mass. "What a blessing this is for all of us."
Father Andrew Kurovsky, pastor of Sacred Heart of Jesus Parish since 2017, delivered the homily.
"For 75 years, you have touched the presence of Jesus Christ in our midst by the way that you have reached out to one another in your woundedness, in your hurt and in your pain," Father Kurovsky said. "For 75 years, you have recognized the presence of a Resurrected Christ right here in our midst and that is what we celebrate today."
The Mass took place on the Second Sunday of Easter, Divine Mercy Sunday, which always includes the Gospel message of 'Doubting Thomas,' who had a hard time believing Jesus is alive after the Resurrection without touching his wounds.
Father Kurovsky used the popular refrain from Diana Ross' song, "Reach Out And Touch" (Somebody's Hand), to connect the Gospel message to the work being done by people in the parish on a daily basis.
"In the last 37 years, I've never experienced a community of faith, a group of people more filled with the Holy Spirit and your willingness to continue to build up God's kingdom right here in our own little corner of the world," Father added.
Sacred Heart of Jesus began as a mission church of Saint Mary Assumption Parish in Jessup. The original church, built on Main Street in Peckville in 1942, was served by Rev. William Boyd, who acted as administrator, and by the assistant pastors of Saint Mary's until 1946.
With the appointment of Rev. Joseph Gilbride, Sacred Heart of Jesus became a parish in its own right on April 24, 1946.
Following the 75th Jubilee Mass, 341 people attended the reception at Fiorelli's, in which Mark and Lisa DeLeo served as chairpersons.
"It was really a moving and wonderful experience," Mark DeLeo said. "It was such a wonderful sense of fellowship. Our parish has grown tremendously since Father Andy is there."
Like the Jubilee Mass, the reception was originally supposed to take place in 2021 – but was also delayed because of the pandemic. The DeLeos believe it actually made the event more meaningful.
"People were ready to get out, people were ready to see each other, to socialize," Lisa DeLeo explained. "It was a long time coming but it was worth every extra hour and the extra year that we put into it."
Organizers say tickets for the reception sold out after only two weekends of offering them after Masses.
Sacred Heart of Jesus Parish, where the motto is 'The Round Church…Where There's Room for Everyone,' has been growing in population over the last five years. The parish reports an increase of approximately 500 families.
The most recent parish census shows 1,380 registered households and more than 3,000 parishioners. The parish currently has more than 250 students in its faith formation program.
As he thanked everyone for the role they play in helping the parish grow, Father Kurovsky emphasized, "Good things happen in churches where the Holy Spirit is alive!"