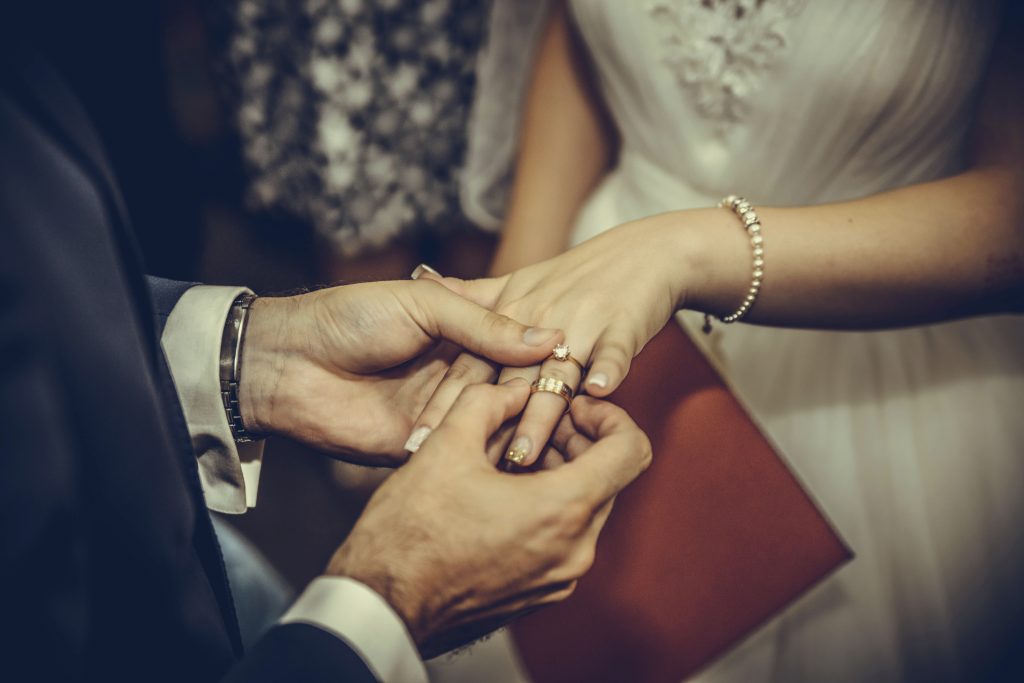 MARRIAGE
FOR PARISH USE ONLY:
Forms for Marriage
User Guide for Canonical Documentation for Marriage
Diocese of Scranton Prenuptial Inquiry – Fillable Form
Here is a collection of articles from a great resource for all the stages of married life, www.foryourmarriage.org, sponsored by the United States Conference of Catholic Bishops:
 MARRIAGE LITURGY
YouTube video: "Saying I do: What happens at a Catholic Wedding" https://youtu.be/3uAHwtBRg5c. 
OFFICIAL PAPAL BLESSING
Are you celebrating a major Wedding Anniversary?  Are you interested in obtaining an Official Papal Blessing to help honor this important milestone or to celebrate a marriage?
Click here to learn more.
PRECANA/MARRIAGE PREPARATION
http://www.foryourmarriage.org/dating-engaged/must-have-conversations/)
ONLINE PRECANA
https://themarriagegroup.com/courses/living-our-faith-in-love/
ONLINE PRECANA – SPANISH
https://preparacionmatrimonialcatolica.com/
FOCCUS
"The FOCCUS© Inventory is designed to help engaged couples appreciate their unique relationship, learn more about themselves, and discuss topics important to their lifelong marriage."  www.FOCCUSinc.com.
CATHOLIC ENGAGED ENCOUNTER WEEKEND
http://www.engagedencounter.org/
MARRIAGE ENRICHMENT
PRAYER
Daily prayer downloads: http://www.pray-as-you-go.org
Prayer online: http://onlineministries.creighton.edu/CollaborativeMinistry/online.html
Prayer in Married Life brochure 
INTERFAITH/INTRAFAITH MARRIAGES
http://sites.sandiego.edu/interchurch/ is a terrific resource for discussion starters and recommendations for many aspects of combining faith lives. 
GENERAL
Good News for Newlyweds Newsletter
REFOCCUS: An instrument to help couples identify and communicate about issues important to their relationship. FOCCUS, Inc., 3214 N. 60th St., Omaha, NE 68104, Phone: 888-874-2684 www.foccusinc.com
Susan Vogt webpage on marriage
Vibrant Faith at Home: This website, written by Catholic and mainline Protestant parish ministers, offers reflections and prayer experiences for couples at all stages as well as for families and individual adults.  There are a variety of topics available. Everything you need is free and easily accessible, including links to helpful resources. http://www.vibrantfaithathome.org/
www.MarriagePreparation.com includes a variety of resources to build healthy marriages –no matter how many years you have been married.
"Forgiveness: healing the hurts in marriage" is an article on forgiveness in married life http://www.foryourmarriage.org/forgiveness-healing-the-hurts-in-marriage/.
The Gottman Institute: Information gathered through four decades of relationship research.  Though this is a secular resource, and therefore not always in line with Catholic teaching, much useful information and many helpful relationship tips can be learned here. 
BOOKS
For Better, for Worse, for God by Mary Jo Pedersen, Loyola Press – This is a book that relates the spirituality and theology of marriage to everyday life; with reflection and discussion questions throughout the book.
Hold Me Tight by Dr. Sue Johnson, Little, Brown & Company – This is a book that explains the scientific research behind romantic relationships and how married couples can communicate better to stay together.  See also, Dr. Sue Johnson's videos on www.YouTube.com: "What Is a Healthy Marriage?" (3:52) and/or "The Laws of Love" (13:50)
MARRIAGE ENRICHMENT RETREATS
Worldwide Marriage Encounter: The emphasis of Worldwide Marriage Encounter, a marriage enrichment program, is on communication between husband and wife, who spend a weekend together away from the distractions and the tensions of everyday life, to concentrate on each other.  It's not a marriage clinic, nor group sensitivity.  It's a unique approach aimed at revitalizing Christian Marriage. This is a time for your spouse and you to be alone together, to rediscover each other and focus on your relationship for an entire weekend. Every marriage deserves that kind of attention!  To learn more about Marriage Encounter and to find weekends in other dioceses or faith expressions, call 800-787-7679 or visit http://www.wwme.org/
Marianist Family Retreat Center: Marianist fathers offer get-away retreats in Cape May Point, NJ http://capemaymarianists.org/
Franciscan Spiritual Center: This center offers retreats, spiritual direction and online spirituality.  They are located in Aston, PA and at www.fscaston.org
NATURAL FAMILY PLANNING ONLINE
NFP Life – https://themarriagegroup.com/courses/nfp-life/
Featured in our popular Pre-Cana, Living Our Faith in Love, this course provides an overview of the concept of NFP and sets the stage for a more in-depth teaching of a specific method.
Billings Ovulation Method Course – https://learnnfponline.com/billings-ovulation-method-2/
NATURAL FAMILY PLANNING ONLINE INSTRUCTION FOR SPANISH SPEAKING COUPLES
FURTHER INFORMATION ABOUT NFP AND THE THEOLOGY OF THE BODY
US Catholic Conference of Bishops: Natural Family Planning Office — https://www.usccb.org/topics/natural-family-planning
Humanae Vitae: a letter from Pope Paul VI on contraception http://www.vatican.va/holy_father/paul_vi/encyclicals/documents/hf_p-vi_enc_25071968_humanae-vitae_en.html
Natural Family Planning FAQs: an article from www.foryourmarriage.org, a great resource for all the stages of married life sponsored by the Unite States Conference of Catholic bishops. . http://www.foryourmarriage.org/family-planning/
SUPPORT FOR HURTING MARRIAGES
Finding Help When Your Marriage Is in Trouble: an article from www.ForYourMarriage.org
Difficulties Married Couples Face from the United States Conference of Catholic Bishops
COUNSELING FOR ANY NEED OR CRISIS
INFORMATION ON DOMESTIC VIOLENCE
 Life Matters: Domestic Violence:  an article by Frank J. Moncher, PhD
Local hotline/resource center for anywhere in PA: sponsored by PA Coalition against Domestic Violence
National Domestic Violence Hotline 1-800-799-7233 or http://www.thehotline.org/
Domestic Violence information from the United States Conference of Catholic Bishops.
RETREATS FOR RELATIONSHIP HEALING
Retrouvaille: Sponsored by the Diocese of Scranton and others, Retrouvaille is a weekend program for married couples who may be experiencing tension, stress and loneliness in the marriage relationship. The program helps couples — even those separated and divorced — to communicate better and resolve conflicts in their relationships.
Beginning Experience: The ecumenical Beginning Experience weekends are an approved program designed for those suffering the loss of a spouse through death, divorce or separation.
Rachel's Vineyard Post-Abortion Healing Retreat: This confidential weekend retreat facilitates spiritual and emotional healing for men and women struggling with the pain of abortion.
ANNULMENTS/DIVORCE
Information about the annulment process in the Diocese of Scranton –the Diocesan Tribunal website
 "Understanding Annulments" by John T. Catoir, J.C.D from https://www.franciscanmedia.org/
 "Pope Francis Reforms Annulment Process: Nine Things You Need to Know and Share" by Jimmy Akin, Sept 8, 2015, on www.catholic.com.
Annulments  Information from the United States Conference of Catholic Bishops.