(OSV News) – Ohio voters Nov. 7 approved Issue 1, a measure that will codify abortion access in the state's constitution through fetal viability, typically understood to be 24 weeks gestation. The loss marks another electoral defeat for anti-abortion ballot measures in the wake of the Supreme Court's Dobbs decision.
With 99% of precincts reporting, Ohio voters passed Issue 1, with 56.6% voting "yes" while 43.4% voted "no."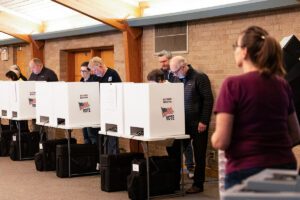 The measure, advanced by the Ohio Physicians for Reproductive Rights and Ohioans for Reproductive Freedom, will legalize abortion up to the point of fetal viability – the gestational maturity at which a baby may be capable of living outside the uterus – and beyond, if a physician decided an abortion was necessary for the sake of the mother's life or health.
Although Ohio lawmakers enacted a six-week abortion ban that is not being enforced amid a legal challenge, the passage of Issue 1 will likely block its implementation.
Supporters of the measure argued it would return the state to the legal standard set prior to the U.S. Supreme Court overturning Roe v. Wade in June 2022. Opponents argued the measure would go further than that through its definition of fetal viability, which states viability would be determined on "a case-by-case basis."
Some proponents argued that failure to enact the measure could criminalize miscarriage care. In an Oct. 13 statement, the Ohio Catholic Conference pushed back on such claims, arguing that "over thirty Catholic hospitals, providing care to millions of patients in Ohio, affirm their commitment to delivering comprehensive healthcare for women and preborn children during pregnancy complications."
In a Nov. 7 social media post, Ohio's Republican Sen. J.D. Vance urged the state to "Vote NO on Issue 1!"
"There's been a lot of lies out there from the Yes campaign," Vance wrote. "People do in fact abort healthy late term pregnancies. Issue 1 doesn't make it illegal to have a miscarriage. Think for yourself and vote no!"
Meanwhile, Ohio's Democratic Sen. Sherrod Brown wrote, "I trust Ohio women to make their own health care decisions and that is a right I will always fight for in the Senate. Vote YES on Issue One."
Ohio voters previously rejected in August another ballot initiative that would have raised the threshold for passing constitutional amendments to 60% of voters, leaving in place the state's requirement of 50% plus one vote. That measure, which was seen as a proxy for the November election, would have made passing Issue 1 more difficult.
The election was contentious in the state. In October, the Archdiocese of Cincinnati released a statement saying that "numerous accounts of theft and vandalism have been reported to police at Catholic schools, churches and cemeteries across the Archdiocese of Cincinnati."
More than a dozen other church properties, Catholic high schools and cemeteries have reported theft of Vote No yard signs, the statement added.
In a Nov. 7 statement, Archbishop Dennis M. Schnurr of Cincinnati said, "The people of Ohio missed this important opportunity to demonstrate that the health and safety of women, the fundamental rights of parents, and the lives of preborn children deserve protection."
"Despite this outcome, we are grateful for all of you who prayed, educated yourselves and others, and voted NO on this horrific amendment," Archbishop Schnurr said. "And we praise God for the gift of His great love and mercy which He continues to pour out to us in good times and in bad."
The measure's passage, he said, "shows that there remains a desperate need for conversion of hearts and minds to a culture of life in our country, one that respects the inherent dignity and sacredness of every human being from conception to natural death."
"This conversion will only come about through the witness of our earnest prayer and compassionate care for the most vulnerable among us," he said. "I urge everyone in the Archdiocese of Cincinnati to redouble support for the many Catholic ministries that provide material resources and personal accompaniment to women, children and families so that abortion ceases to be a consideration."
In a Nov. 7 statement, President Joe Biden praised the outcome as a victory for democracy and "fundamental freedoms." He said his administration would call on Congress to enact legislation "to restore the protections of Roe v. Wade in federal law once and for all."
"Ohioans and voters across the country rejected attempts by MAGA Republican elected officials to impose extreme abortion bans that put the health and lives of women in jeopardy, force women to travel hundreds of miles for care, and threaten to criminalize doctors and nurses for providing the health care that their patients need and that they are trained to provide," he said. "This extreme and dangerous agenda is out-of-step with the vast majority of Americans."
Marjorie Dannenfelser, president of SBA Pro-Life America, which works to elect anti-abortion candidates, said in a statement that "Issue 1 passed because abortion activists and outside Democrat donors ran a campaign of fear to Ohio voters: vote for this ballot measure or women will die."
"This lie not only deceived voters but put pregnant women at risk by sowing confusion, so much that even the state health department endeavored to set the record straight so women knew they could get care during a miscarriage," Dannenfelser added. "The truth is that every state in the country with a pro-life law allows for timely and necessary care for pregnant women in an emergency. But abortion activists will continue to lie to voters because it is politically expedient. Without those lies, they can't push their deeply unpopular agenda of no-limits, painful, late-term abortion on demand."

Dannenfelser said that there "have been many valuable lessons learned from Issue 1."
"Moving forward in states where abortion will be on the ballot in 2024, pro-life, pro-woman coalitions will need to devote more resources to compassionate pro-life messages for women and their children, combatting the campaign of fear from the other side," she said.
In 2022, voters in California, Kentucky, Michigan, Montana, Vermont and Kansas either rejected new limitations on abortion or expanded legal protections for it. Abortion advocates are seeking to hold comparable votes in 2024 in states including Arizona and Florida.