SCRANTON – Christina Mueller of the Mueller Family McDonald's presented an $11,500 check to the Diocese of Scranton Scholarship Foundation on March 2, 2023.
The donation was a result of the sixth annual Fry Fundraiser that kicked off National Catholic Schools Week Jan. 29 and ended Feb. 19, 2023. All nineteen Mueller Family McDonald's participated by donating a portion of every large order of french fries sold during that period.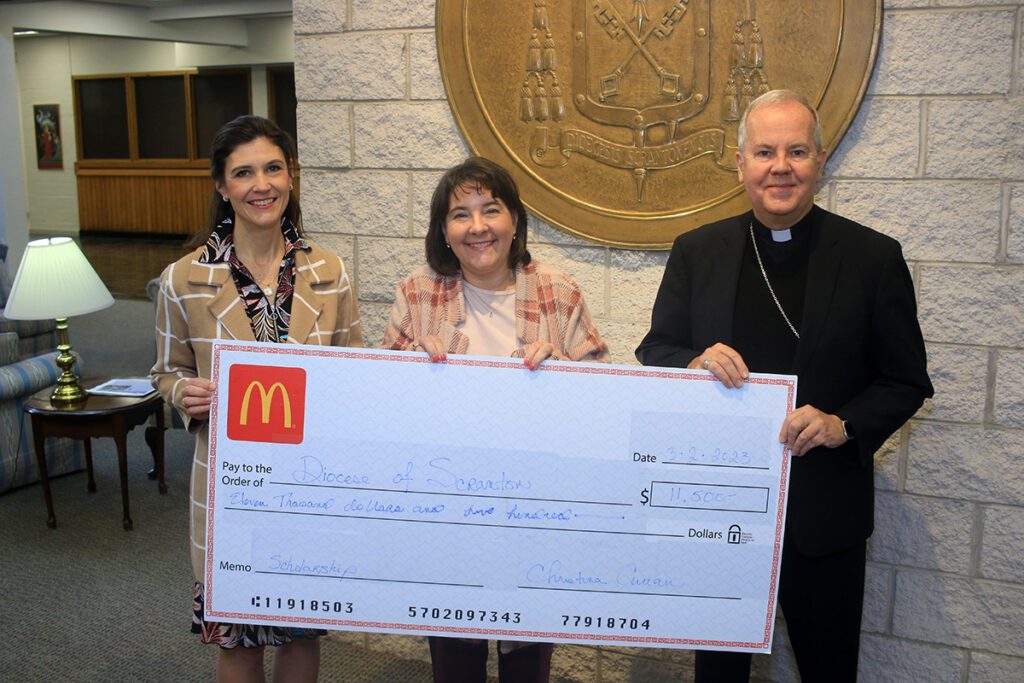 "We are so happy to be able to partner with the Diocese of Scranton to provide scholarship money for Catholic schools. We couldn't be happier to be participating. We really enjoyed all of the Activity Nights and the engagement of our restaurants with the schools," Christina Mueller said.
The Diocese of Scranton Scholarship Foundation helps students in our 19 schools experience a Catholic education and achieve their God-given potential in an academically excellent, safe, and spiritual environment.
With restaurants located in Scranton, Wilkes-Barre, Shavertown, Mountain Top, Old Forge, Clarks Summit, Dickson City, Eynon, Carbondale, Tunkhannock, Honesdale, Allentown and Bethlehem, the Mueller Family McDonalds restaurants are deeply invested in their communities.