SCRANTON – Mothers of all types were celebrated on Sunday, May 14, 2023, as the faithful came together for a special Mother's Day Adoption Mass at the Cathedral of Saint Peter.
During the Mass, the faithful prayed in an intentional way for all mothers, grandmothers, godmothers, stepmothers, adoptive mothers, foster mothers and all those who "mother" throughout their lives.
The Most Reverend Joseph C. Bambera, Bishop of Scranton, served as principal celebrant and homilist.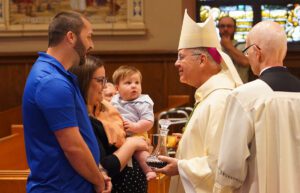 As he reflected on the readings for the Sixth Sunday of Easter, Bishop Bambera said our mothers and grandmothers give us a great example of how to love each other as Jesus loved.
"We exist to love, to forgive and to work for peace," Bishop Bambera said. "Is it a tall order? Yes! Is it an expectation beyond our ability? Not at all! Just look at the women whose lives we honor this day and for whom we give thanks: our mothers and grandmothers and all those who have so nurtured and cared for life – loving selflessly, without expectation or receiving love in return – in the spirit of the merciful and selfless love of Jesus."
Several families who have adopted children with the help of Saint Joseph's Center attended the Mass.
During the liturgy, those in attendance prayed that society would accept adoption as a viable means to provide abused, neglected and abandoned children with a safe home as well as for women who have had the courage to place their babies up for adoption.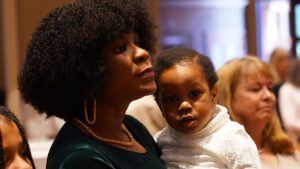 On the same day at the Vatican, Pope Francis expressed his appreciation for women who have given birth to children and entrusted them to the protection of Our Lady.
"Let us recall with gratitude and affection all mothers, those who are still with us and those who have gone to Heaven," Pope Francis said. "Let us entrust them to Mary, the mother of Jesus."