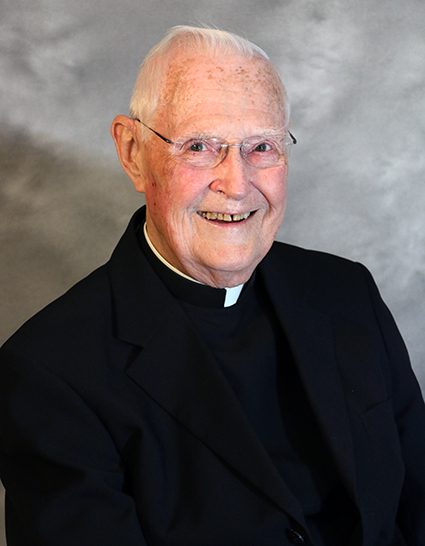 OBITUARY
Monsignor Arthur James Kaschenbach
Monsignor Arthur J. Kaschenbach, Pastor Emeritus of St. Mary of the Mount, Mt. Pocono, died on the 3rd day of January, 2023.
Monsignor Kaschenbach, the only child of the late Arthur Henry Kaschenbach and Kathleen Marie (Phillips) Kaschenbach, was born in Wilkes Barre, on October 18, 1926.  He received his early education at St. Mary's Elementary and St. Mary's High School in Wilkes Barre.  Monsignor entered St. Charles College, Catonsville, Maryland and completed his studies for the priesthood at St. Mary's Seminary, Baltimore, Maryland.  He received a Licentiate of Sacred Theology in June of 1951.   Monsignor Kaschenbach was ordained to the priesthood on May 19, 1951 by Most Reverend William Joseph Hafey, D.D., late Bishop of Scranton. 
Monsignor Kaschenbach served as assistant pastor at St. Peter's Cathedral, Scranton from  1951 to 1968 when he was appointed administrator of St. Patrick, White Haven.  In 1973, Monsignor was assigned his first pastorate at St. Ann, Tobyhanna where he served until 1977.    Monsignor was assigned his second pastorate at St. Mary of the Mount, Mount Pocono in 1977 where he remained until his retirement and appointment as Pastor Emeritus in 2006.  Monsignor Kaschenbach resided in the Hazleton area for most of his retirement and was of great ministerial assistance to the parishes in this area.  He was also a gracious host and cook in the rectories where he lived.
Monsignor Kaschenbach was named a prelate of honor by Pope Saint John Paul II on November 2, 1978 and given the title Monsignor.
In addition to his parochial duties, Monsignor also served as director of the League of the Sacred Heart from 1955 until 1991; Region V Chairman: "Follow Christ"; Office of Religious Education Regional Director; and Dean of Monroe County.
Father celebrated the 60th Anniversary of his Ordination in 2011 with a Pontifical Mass Celebrated by Most Reverend Joseph F. Martino, D.D., Hist. E.D., bishop Emeritus of Scranton.         
A viewing will take place Friday, January 6, 2023 from 5:00 p.m. to 7:00 p.m. at Most Holy Trinity Parish, 212 PA-390, Cresco, PA.   A Vesper Service will be celebrated at 7:00 p.m.   A viewing will also take place at Most Holy Trinity Parish, Cresco, Saturday, January 7, 2023, at 9:00 a.m., prior to the funeral.
A Pontifical Mass of Christian Burial will be celebrated by the Most Reverend Joseph C. Bambera, D.D., J.C.L., Bishop of Scranton, on Saturday, January 7, 2023 at 10:00 a.m. at Most Holy Trinity Parish, Cresco, Pa.   Interment will be in St. Mary's Cemetery, Wilkes Barre.
All funeral arrangements are being handled by Bolock Funeral Home, Cresco, PA