WILKES-BARRE – Between the beautiful entrance hymn of 'Exult and Sing,' and the crowd of more than 300 friends and colleagues looking back at her, Sister Ellen Fischer, S.C.C., admits shedding a few tears as she approached the ambo to deliver the first reading at a Mass of Thanksgiving celebrating the 175th Anniversary of the founding of the Sisters of Christian Charity.
The special Mass also served as a reason to celebrate the religious order's 150 years of service in the Diocese of Scranton.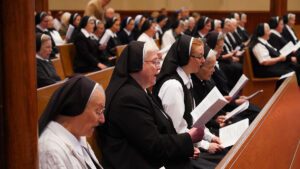 "To be honest, I started the liturgy filled with tears as we looked out," Sister Ellen said. "To see the amount of people here supporting us, people that we have served with through our many, many years, it was just so humbling."
As she sat in the crowd, Sister Chiara Marie Stimpfle, S.C.C., was similarly overcome with emotion.
"This day has been so beautiful. I wasn't expecting it to be as beautiful as it was," Sister Chiara Marie said. "Just seeing all the Sisters here today celebrating and the songs that are so special to our community and congregation – and to have them sung here at Saint Nicholas Church – it just deepened and awakened in me more of that call, that charism, to this particular community."
The special Mass, which took place on Nov. 4, 2023, was held at Saint Nicholas Church, because that is where seven German speaking Sisters of Christian Charity were first welcomed in the Diocese of Scranton.
When Pauline von Mallinckrodt, Foundress of the Sisters of Christian Charity, first came to the United States due to political oppression in Germany in 1873, Father Peter Conrad Nagel, first resident pastor of Saint Nicholas Church, welcomed her to his parish.
Father Nagle was instrumental in having the Sisters go to other German-speaking parishes throughout the Diocese of Scranton.
"We look back in gratitude to Bishop William O'Hara, first Bishop of the Diocese of Scranton, for giving permission in the 1870s for the first Motherhouse, named Mallinckrodt Convent, to be built in the United States in Wilkes-Barre," Sister Joann Marie Aumand, S.C.C., Provincial Superior, North American Province, explained in a special greeting before Mass began. "Many of you remember and perhaps are even graduates of Saint Ann's Academy which was part of Mallinckrodt Convent at the time."
Over the last 150 years, the Sisters of Christian Charity have maintained ministries in many communities throughout the Scranton Diocese, including Wilkes-Barre, Scranton, Williamsport, Muncy, Pittston, Bastress, Honesdale, Dushore, Hazleton, Luzerne, Duryea, Kingston, and Mountain Top.
"Over these 150 years, we've been in education, healthcare, pastoral work, and reaching out to the poor and those who need us," Sister Joann said. "We respond to the needs that the church has at the particular time."
The Most Rev. Joseph C. Bambera, Bishop of Scranton, served as principal celebrant for the Mass of Thanksgiving. During his homily, he gave thanks for the blessing of the Sisters of Christian Charity and acknowledged many of their great contributions.
"We are richly blessed in what you have given to us, what you continue to share, and what we hope and pray will be your presence here for many years to come," Bishop Bambera said.
The bishop also fondly recalled that while he had been taught for 12 years by I.H.M. (Immaculate Heart of Mary) Sisters, during his first assignment as a young priest at Saint Mary of the Assumption Parish in Scranton, it was the Sisters of Christian Charity who gave him the "real education."
"In many ways, Sisters, you served truly as mentors to me," Bishop Bambera noted. "You prayed with me and, I know, for me. You became colleagues and dear friends."
While several dozen Sisters from across the United States attended the anniversary Mass in person, many other Sisters from the Philippines, Germany, Argentina, and Chicago participated by livestream.
Following Mass, a reception was held at Saint Nicholas – Saint Mary School.
Reflecting on the mission of the religious order, Sister Chiara Marie, who recently spent three years teaching at Saint Jude School in Mountain Top, said it is all about bringing God's love to all people.
"Our primary mission is our consecration to God, that we live in community, and to receive and give God's love for others. The way we live that out is different, whether it's teaching, healthcare, or parish work, but we're all united in that same mission," she said. "It's a huge calling and we don't do it perfectly, but it is worth striving for!"
The Mass of Thanksgiving was especially significant for another reason.
It also marked the Sisters in the United States coming together and becoming one North American Province.
"Today, we have become one as a North American Province. Our eastern and western regions have become one under one leadership. We've been working towards communion for several years and today it's a reality. A beautiful day – November 4th – Mother Pauline's first vow day," Sister Joann said. "It has always been a significant day in the history of our congregation and so we chose this day to celebrate a new beginning of our history in the United States."