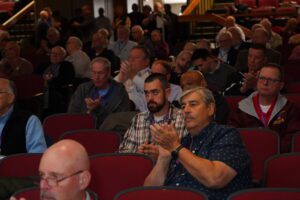 WILKES-BARRE – When Ted Mike of Saint Therese Parish in Shavertown had a spiritual renewal in the late 1970s, he credited the book, Hungry for God, and its author, Dr. Ralph Martin, for being a big influence in his life.
"It totally changed my prayer life. It showed me how important prayer was, to have a daily time of prayer and quiet before the Lord," Mike said. "He's a real prophet for our time."
On Saturday, Oct. 8, 2022, Mike got a chance to hear directly from Dr. Martin, and even personally speak with him, at the seventh annual 'Be A Catholic Man Conference' at Holy Redeemer High School.
"It was wonderful to see so many men come together," Mike explained.
More than 335 men attended this year's conference. In addition to listening to three speakers, attendees also celebrated Mass and Eucharistic Adoration together and had the opportunity to participate in the Sacrament of Reconciliation.
"Gathering together with other like-minded men, sharing your faith, sharing your prayer experiences, helps to encourage you and strengthen your faith," Mike added.
During his speech, Dr. Martin gave those in attendance several practical tips about staying connected to Jesus Christ and relying on God in a deeper way.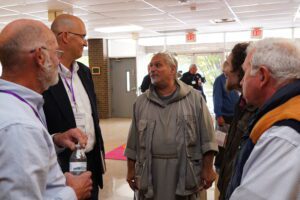 "The challenges of our time can seem absolutely overpowering and lead to anxiety and fear, if we're not relying on the Lord," Dr. Martin explained.
Martin told the men at the conference to unconditionally surrender to Jesus, do whatever it takes to get rid of serious sin, and take time each day to be with the Lord in prayer.
"The most important thing we can do for our families, for relatives, neighbors, fellow parishioners, is to grow in union with the Lord. The more we grow in union with the Lord, the more we'll be a blessing for other people, the more we'll be a source of peace, a source of wisdom, a source of courage," he said.
Author and former sports reporter Kevin Wells, another speaker at the conference, also encouraged attendees to carve out at least 30 minutes every day to pray.
"From the depths of her heart, she (Blessed Virgin Mary) calls for strong men today to reveal her son to this aching world," Wells said.
The words of the speakers spoke loudly to George Coyoy, a parishioner of Saint Michael Parish in Scranton. This was the first time he attended the 'Be A Catholic Man Conference.'
"It reminds me of what my responsibilities and duties are as a Catholic man, father and husband," Coyoy explained. "It gives me more strength and confidence in going out and proclaiming my faith and living out my faith unapologetically."
John Schwear, a parishioner of Most Precious Blood Parish in Hazleton, brought his son, John Schwear III, to the men's conference.
"It helps restore a lot of our faith and also keeps us looking forward," the elder Schwear explained. "So many of the topics that we're experiencing today, we talk about at home."
As they left the conference, many of the conference attendees held fast to the words that Father Stan Fortuna, C.F.R., spoke about. Fortuna, the final speaker of the conference, was one of the eight founding members of the Community of the Franciscan Friars of the Renewal.
"Do not be afraid to open wide the doors to Christ and to His power," Father Fortuna said.